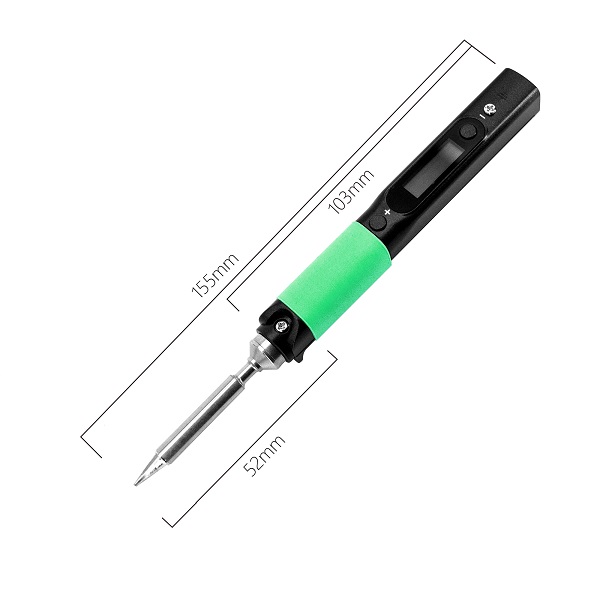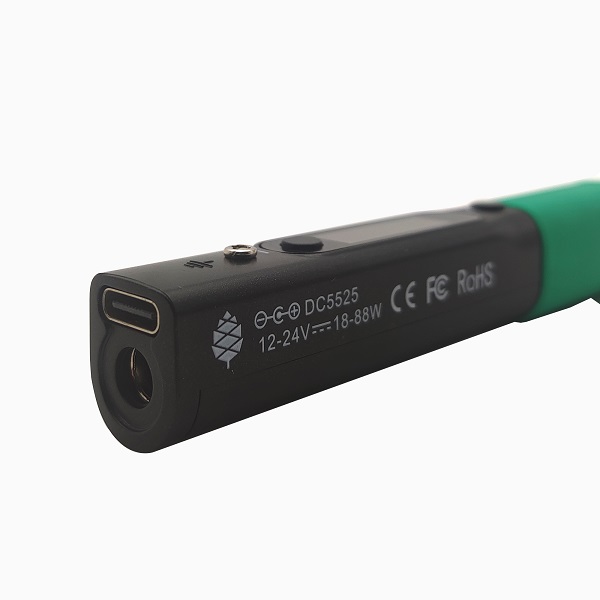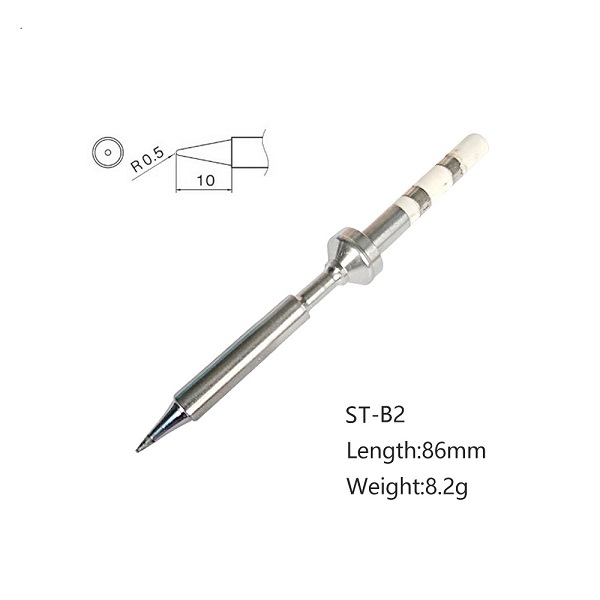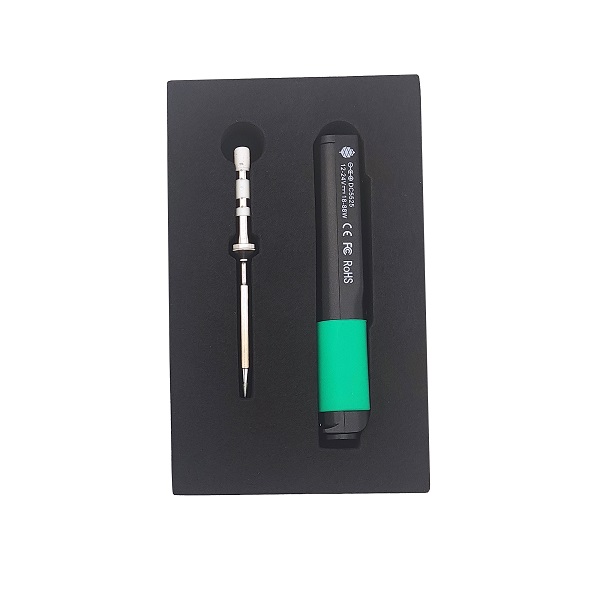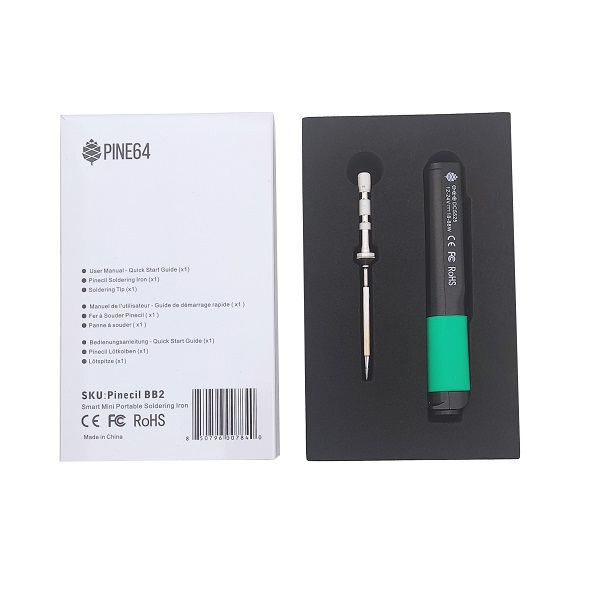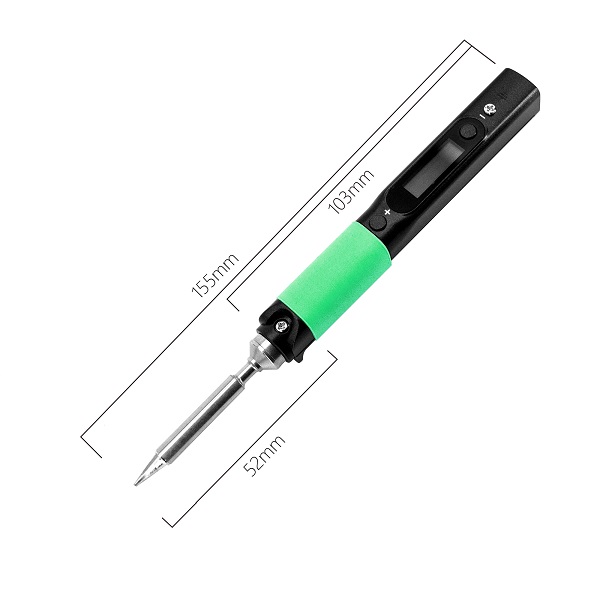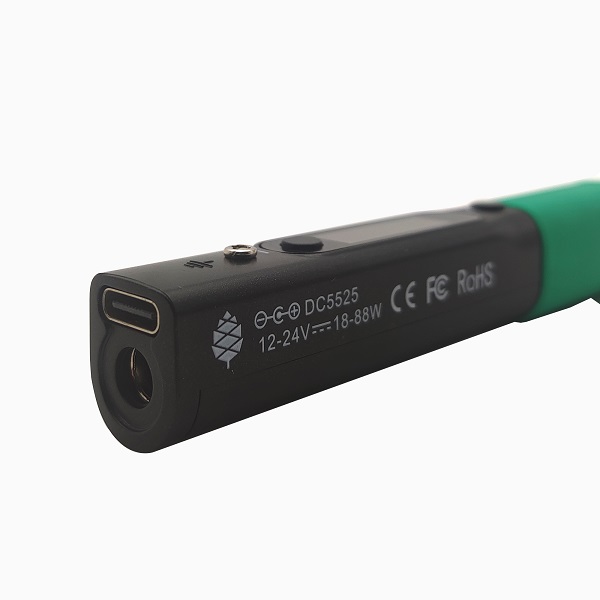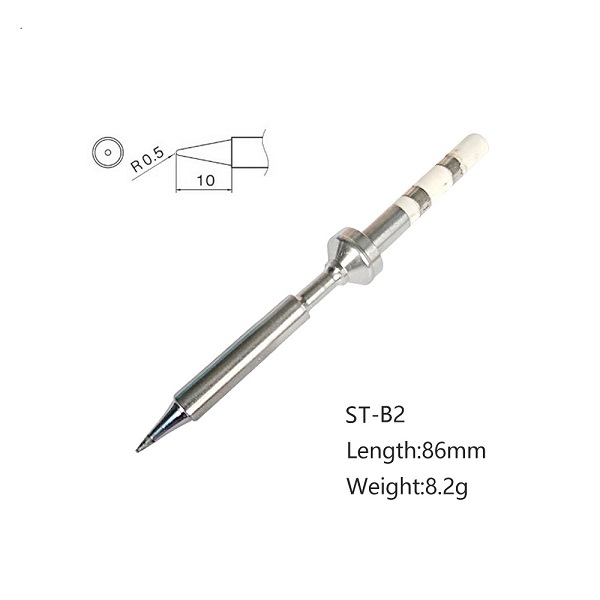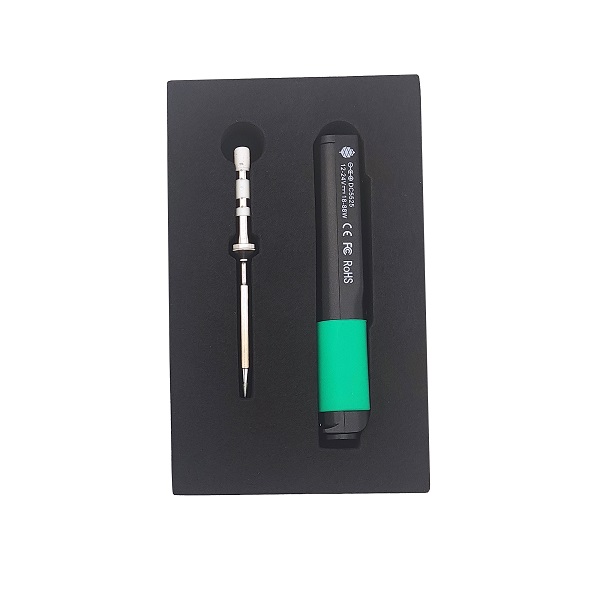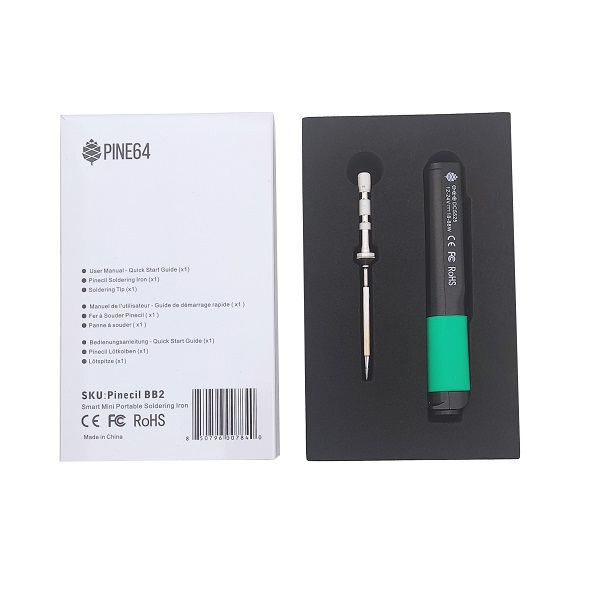 Available, delivery time: 1-3 days
Product number:
blink235342
Product information "Pinecil v2 - Opensource Portable Soldering Iron with 65W and USB-C"
The Pinecil is a smart, portable mini soldering iron with a 32-bit RISC-V SoC, featuring a slim design, automatic standby mode and heating up to operating temperature in just 6 seconds! The v2 is the improved and further enhanced version and successor to version 1.

Dual power inputs: The USB-C port supports both PD (Power Delivery) and QC 3.0 (Quick Charge) and a DC5525 barrel DC jack.

Fast warm-up: The soldering iron reaches operating temperature in 6 seconds. Support for on-demand rapid boost function.

Adjustable soldering tip temperature from 100° C to 400° C, which can be set via the adjustment buttons and an easy-to-read OLED display.

Portable: slim design consisting of a SAE 304 stainless steel core in a polycarbonate housing.

Automatic standby mode turns on when not in use to ensure user safety.

Technical data

| | |
| --- | --- |
| Power | 88W |
| Temperature range | 100-400 °C |
| Heating time | ~12 s |
| Tip system | activ |
| ESD safe | yes |
| Automatic standby | yes, time and temperature adjustable |
| Display | 0,69'' white OLED monochrome display (96x16p) |
| Processor | 32-Bit RV32IMAC RISC-V "SiFive E24 Core" @ 144 MHz |
| Memory | 192 KB Flash, 132 KB SRAM |
| Power supply | USB-C, DC5525 |
| Dimension | 155mm with soldering tip / 103mm without x 12.8mm x 16.2mm |
| Weight | 28g with soldering tip and 18g without soldering tip |
Target Group
The soldering iron is the perfect tool ranging between consumer and professional use. The manufacturing is of very high quality. The easily exchangeable tips also make the mini soldering iron flexible to use. However, the price clearly makes it the first soldering iron for a beginner. The Pinecil will definitely be a long-lasting companion for life.
The scope of delivery
The scope of delivery of the Pinecil v2 is limited to the most important things you need. Of course, the soldering iron itself is included. The latest firmware is already flashed on the Pinecil. There is also a short, pointed soldering tip. The short tip gets hot particularly quickly! A power supply unit or USB cable is not included. Take a look at the accessories in our shop. You need at least a power supply and a cable.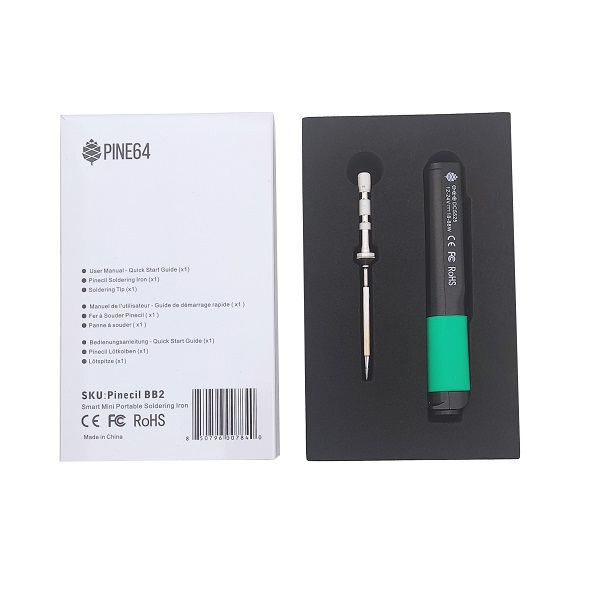 Compatible power supplies
The hollow plug socket is not protected against polarity reversal! You must make sure that you use a compatible power supply unit. You can find a list from the manufacturer here:
https://wiki.pine64.org/wiki/Pinecil_Power_Supplies
We recommend only USB-C power supplies with 65W and 20V. (Attention: Many power supplies do not have a real 65W on one port and distribute the power e.g. to two sockets). The original power supply from Pinecil is excellent. Also the power station.
Recommended cables
It should definitely be a USB-C to USB-C cable. Since it is a soldering iron, a silicone cable is also extremely practical. Silicone cables are heat-resistant and will not break if accidentally touched. Check out our accessories, we have suitable USB cables in stock!
Other accessouries
There are several other accessories for the Pinecil v2:
Mini stand
Although you can simply place the Pinecil on its soldering pad, because the tip does not overlap at the front, a small stand with a sponge or metal wool is practical for cleaning the tip.
Other tips
There are many other tip sizes. From tiny pencil tips to wide wedge tips, all tips can be used. By the way: The Pinecil v1 soldering tips are compatible with the Pinecil v2.

Open Source and Community
The Pinecil is a community project. This means that many developers have worked together to perfect the piece of hardware and the software. The community has made sure that the components are open source. This means that there is no trade secret about how the soldering irons are constructed. You can simply download the instructions and circuit diagrams from the internet. This has the advantage that a possible repair is also made much easier, since it is clear which components have been used. The community also ensures that the soldering iron corresponds exactly to the wishes and needs of the solderers. A really great piece of hardware. The PINECIL's software is also open source, so it is easy to make adjustments. It is quite easy to create your own temperature curves or programme a specific response. Built-in motion sensors allow the soldering iron to quickly switch between stand-by mode and operating temperature.

Differences between v1 and v2
The new version v2 brings a number of new features. Among the most important are:

Bluetooth: It is now possible, for example, for a fan control to switch on automatically when the iron is in use.

A shorter tip: This makes the soldering iron even easier to hold and it gets hot even faster.

Improved power supply: The power supply has been improved and stabilised.
Show us your soldering setup

We at blinkyparts are super curious to know what your soldering setup looks like? Do you have any other 3D printed parts for the Pinecil? Share your photo with us on
Twitter/Mastodon: #SolderingConnects
Instagram: #LötenVerbindet or follow us under @blinkyparts_com
Help others with your feedback
It's often hard to know which soldering iron is for you. Help others by giving us a rating, a feedback. How did it work? What other equipment did you have? What did you like most about it? What makes the Pinecil special? Just leave a review here on the product page under "Reviews".

Target group:

Children

, Grownup

, Nerd