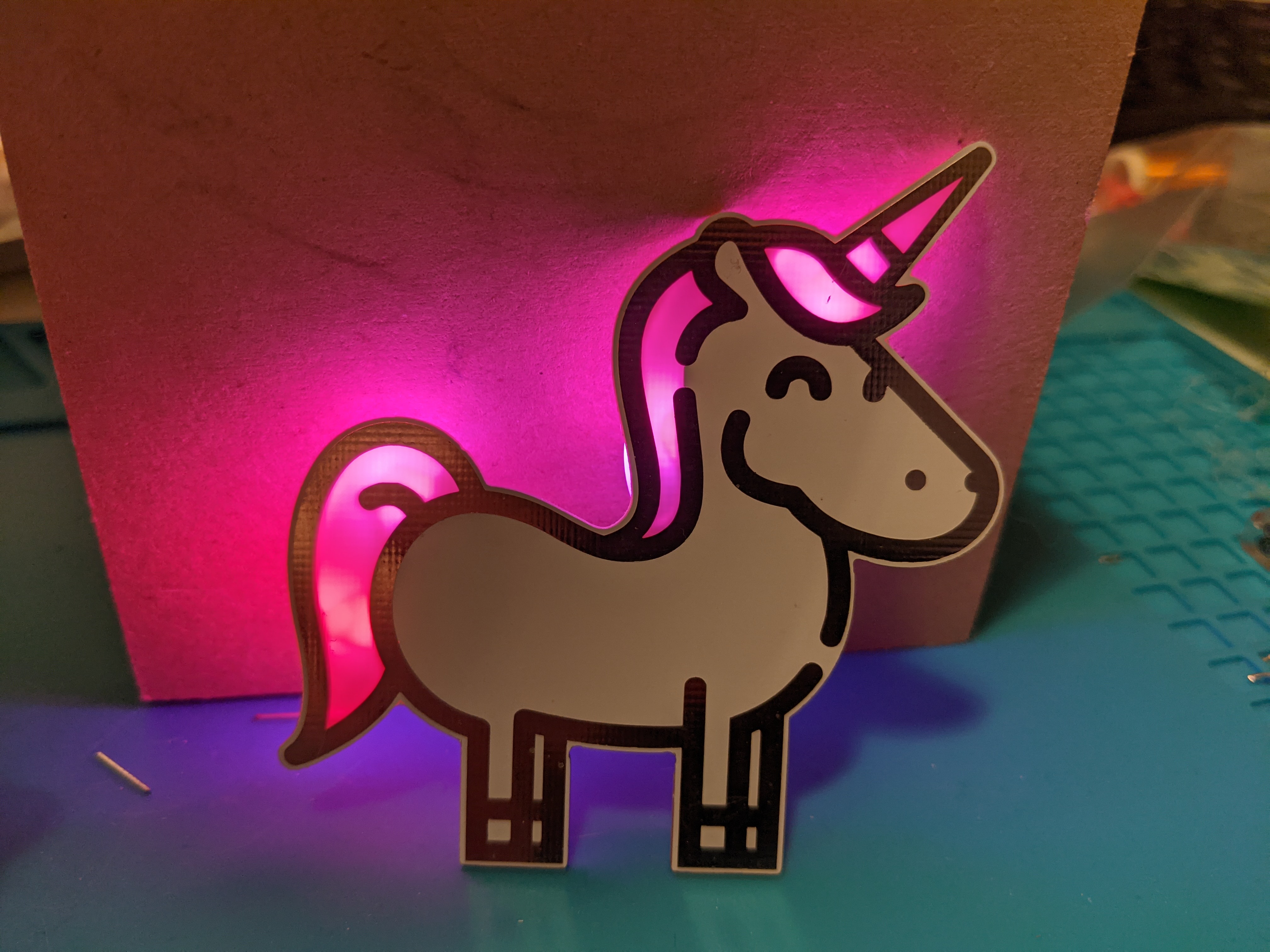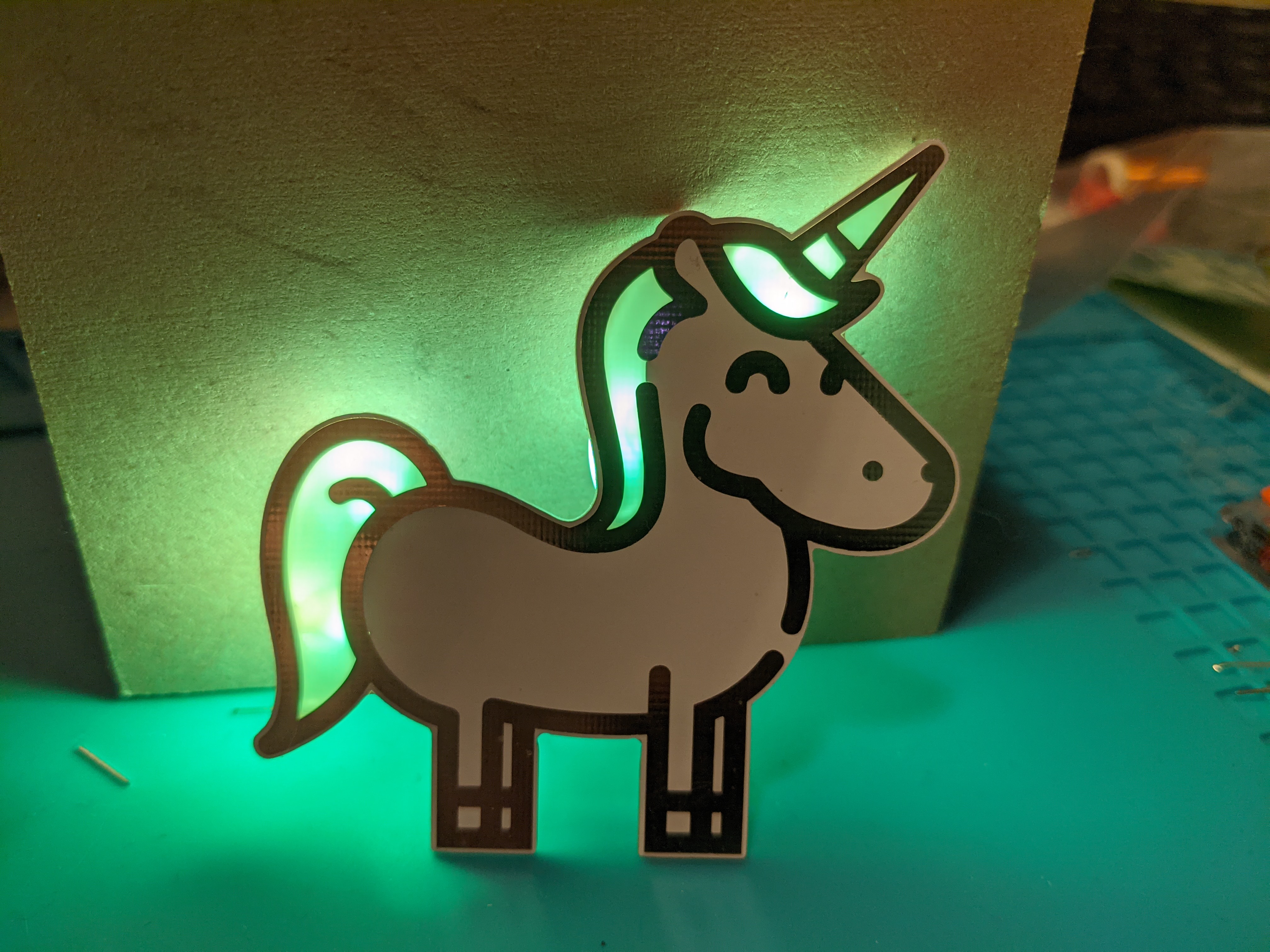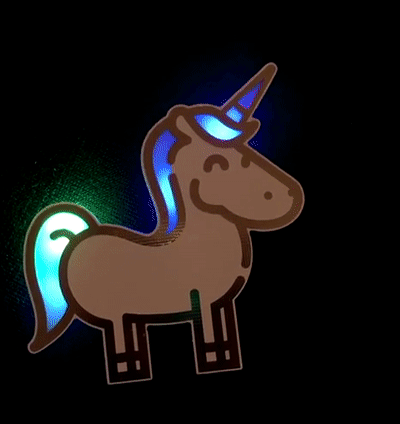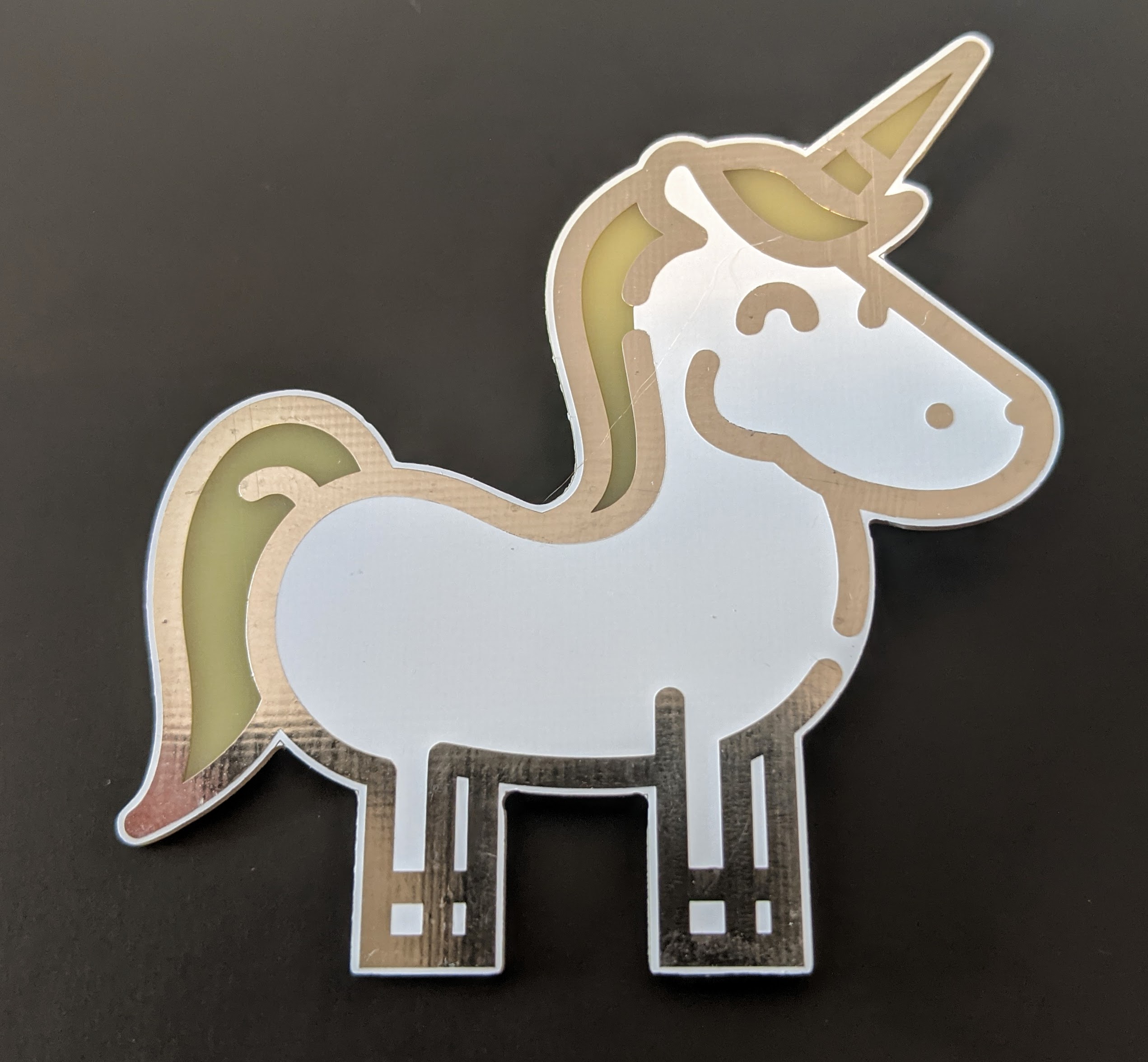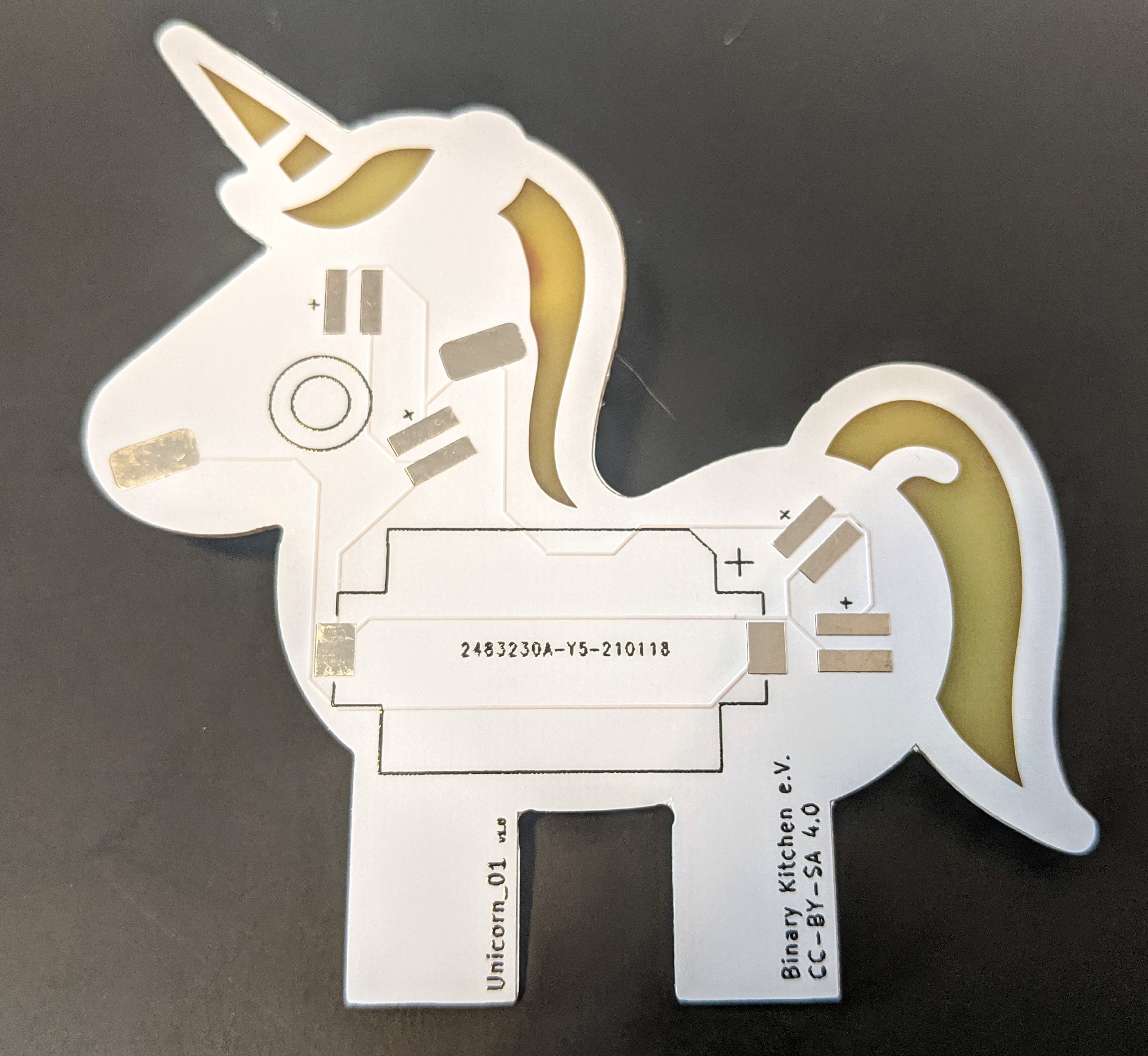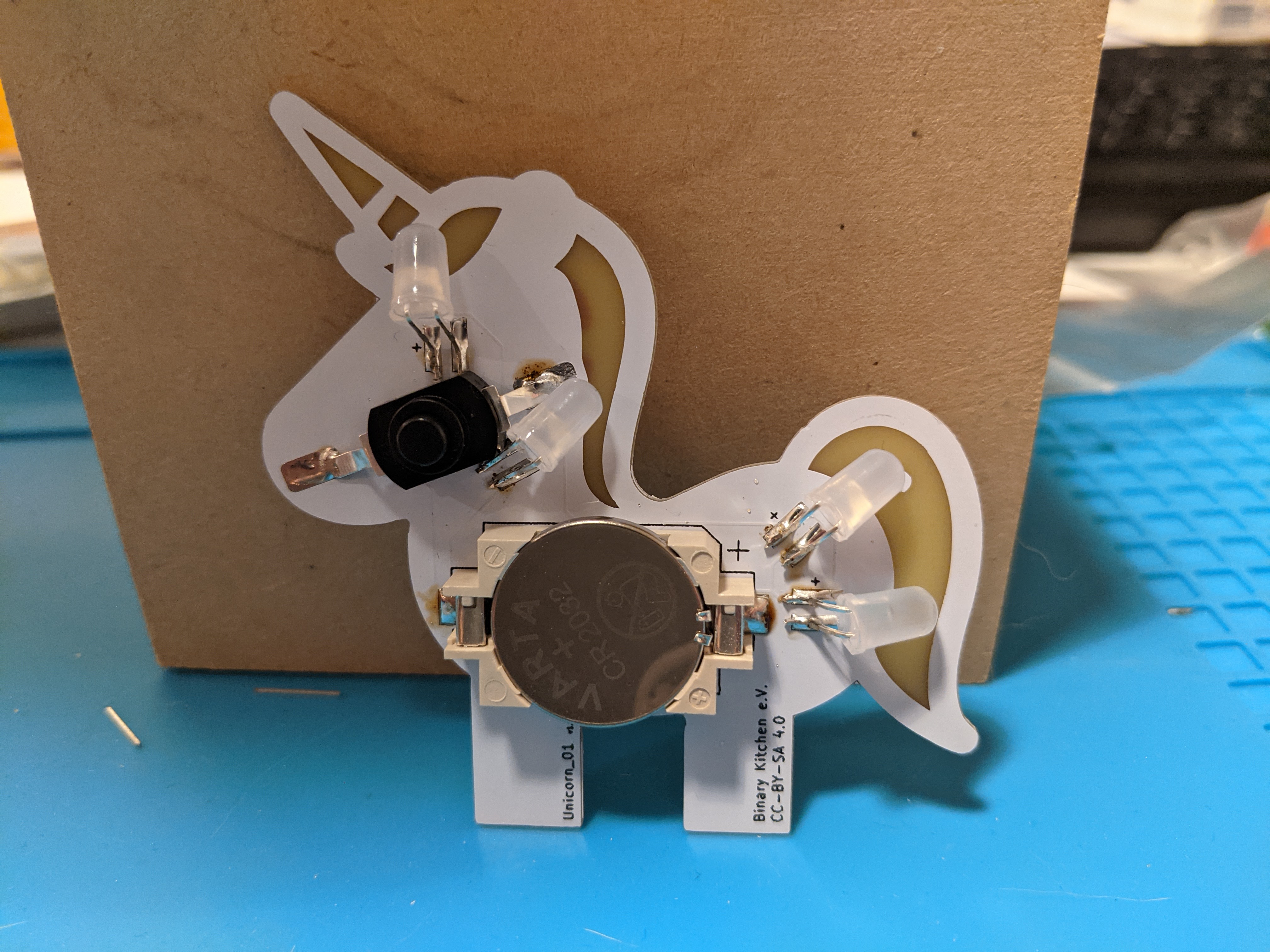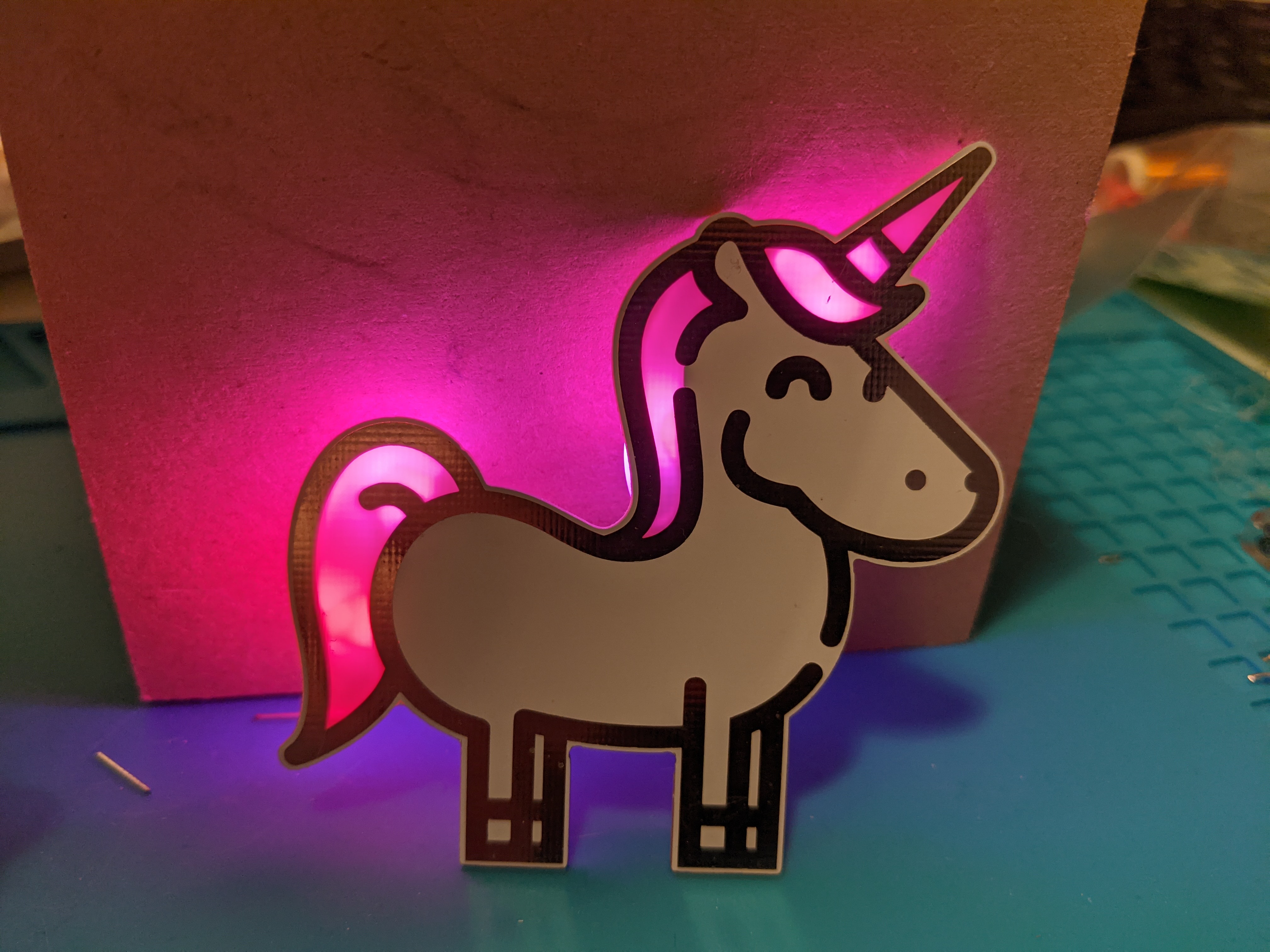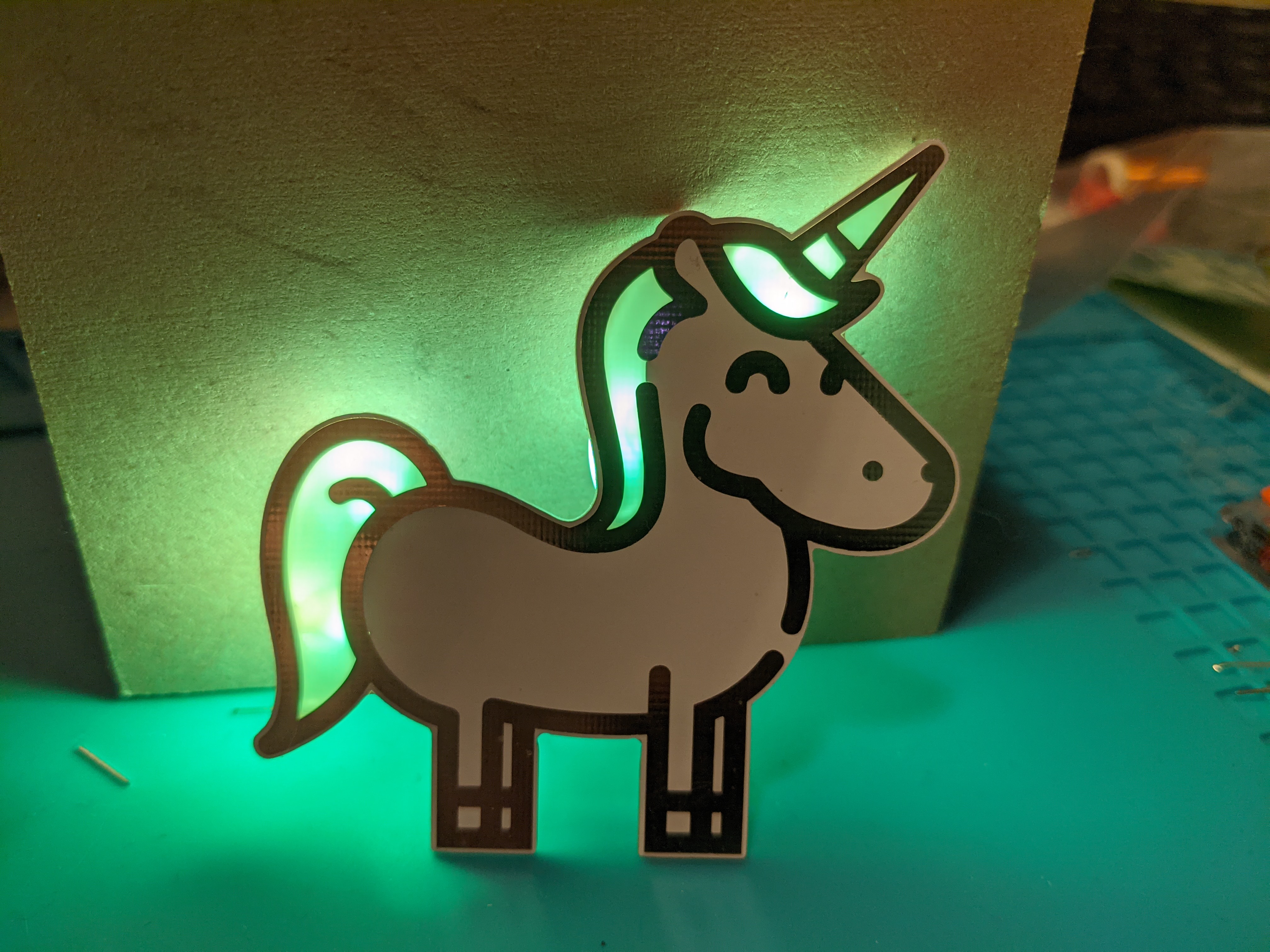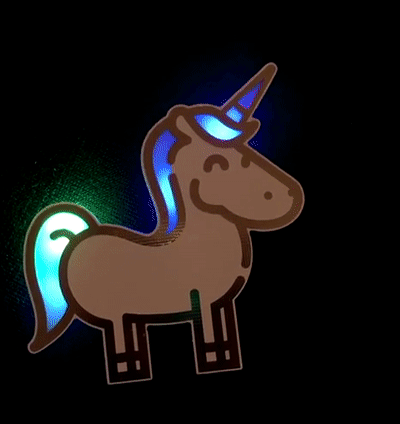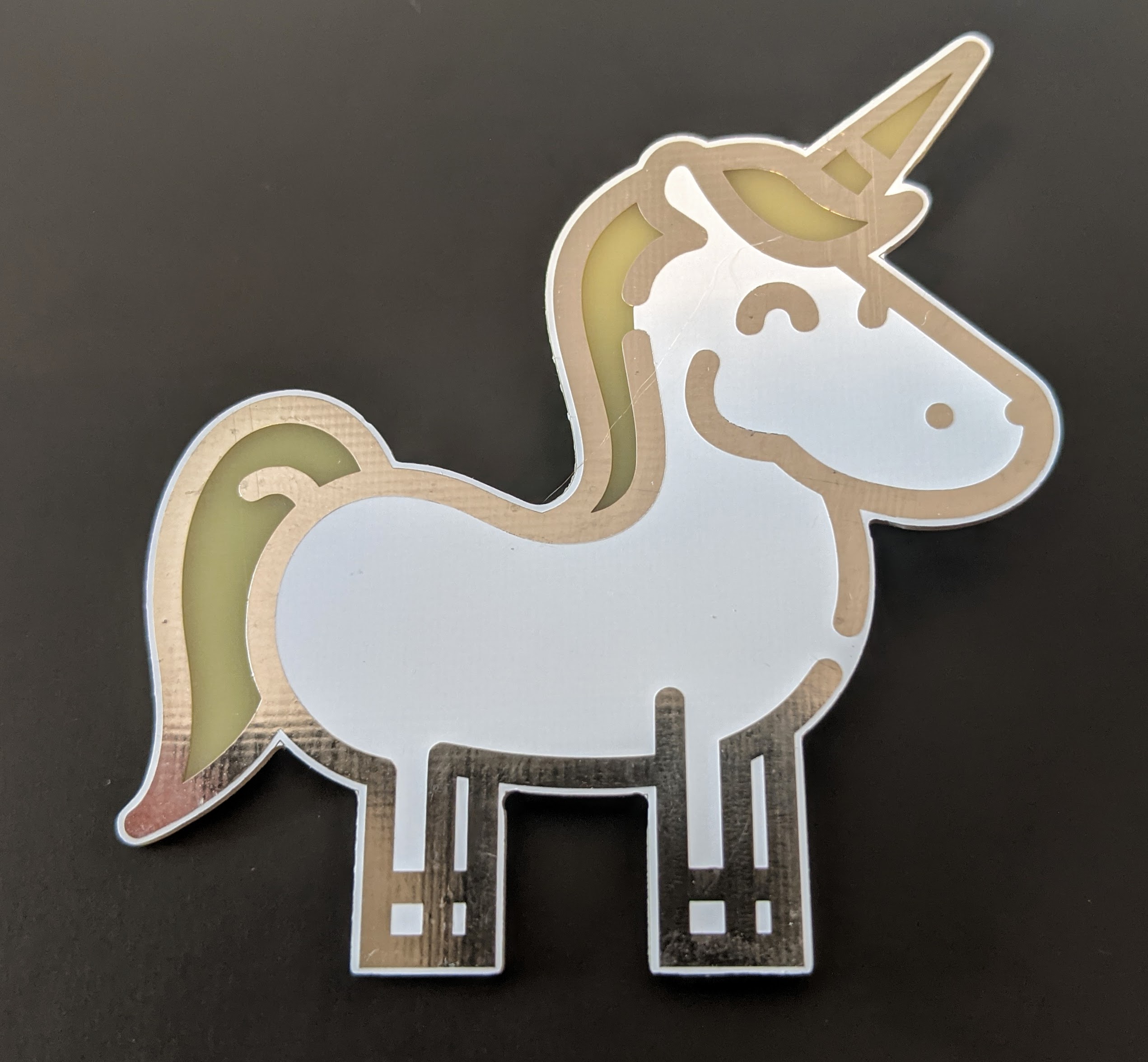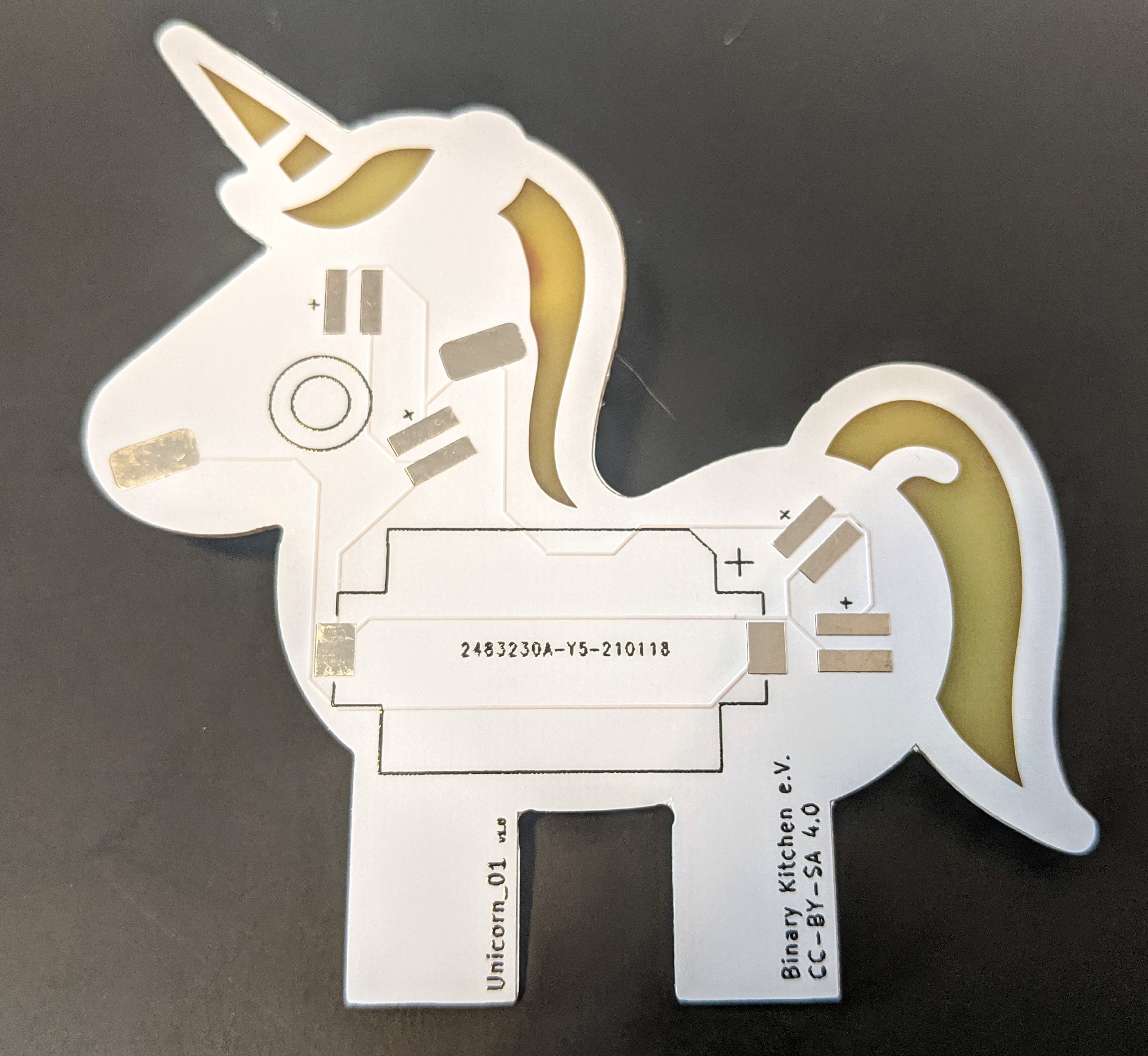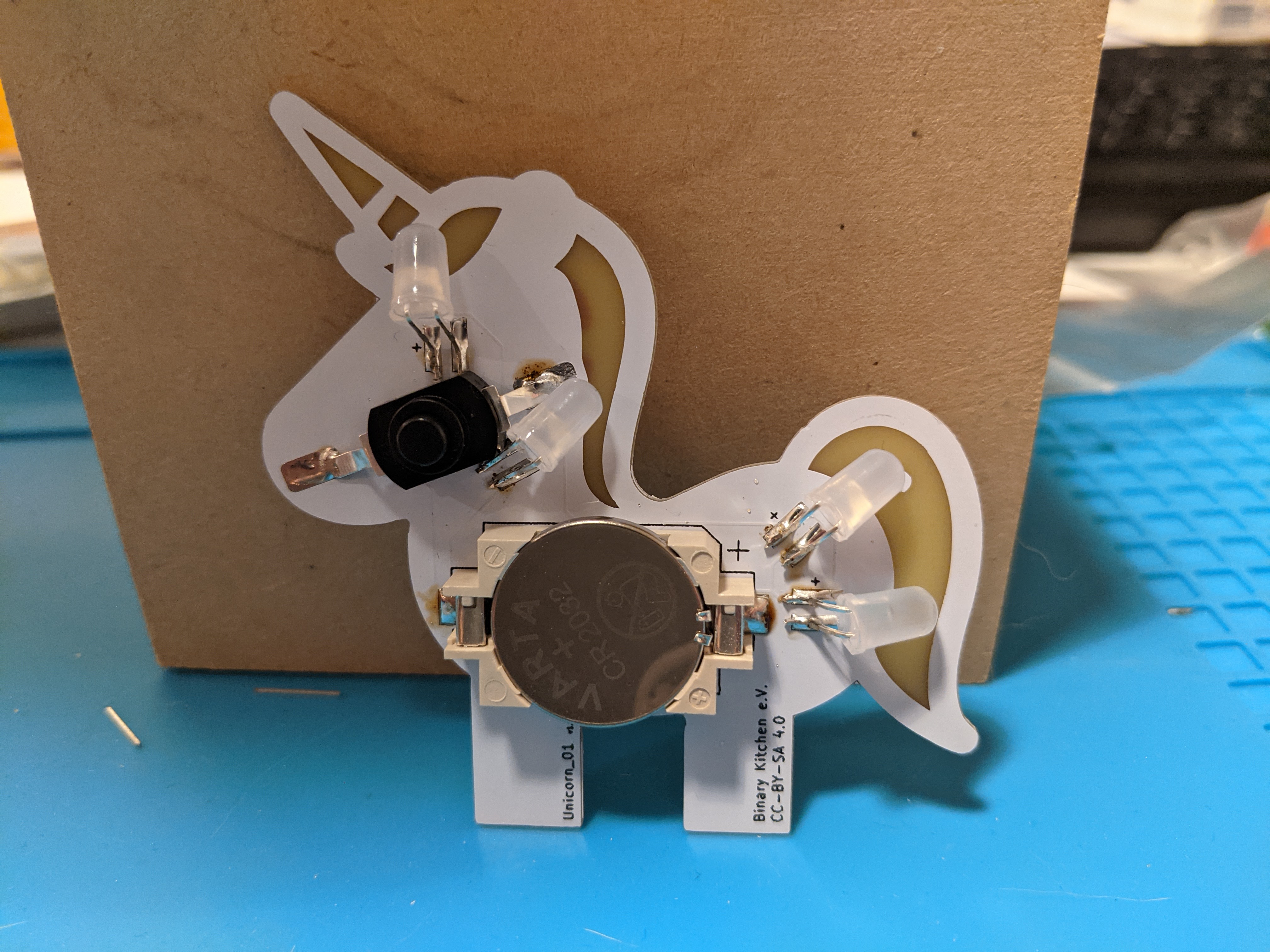 Available, delivery time: 1-3 days
Product number:
blink232242
Product information "Rainbow Unicorn - Simple kit for a fantastic badge"
The great rainbow unicorn is something very special. Once soldered, the tail, horn and mane shine almost magically in all the colours of the rainbow.

The best thing is: with this soldering kit you can easily make a great pin, pendant or necklace even as a beginner. You only have to solder 6 components on the back. For those who already know a bit about soldering: The LEDs are THT, i.e. through-hole components. They are soldered to the surface on the back. We used this trick to avoid having holes on the front. This way, the unicorn can shine in all its glory and shine without any flaws.
For all those who are not yet that far: don't worry! Detailed and well-tested instructions will guide you through this little soldering adventure.

Target group

The electronic soldering kit is designed for beginners. Adults and children alike can have fun with the unicorn soldering kit, although of course you should not let children solder alone. Relatively large components are used, which make it easy to learn how to solder. Only 6 components need to be soldered. This is also possible for absolute beginners in a reasonable amount of time. And the shape? Who isn't a unicorn fan, please? :) It's best to order one or two of these soldering kits, because as you can imagine, the unicorn soldering kit is a popular gift for friends, partners or children.

The components in the unicorn soldering kit

Our kits always contain all the components you need for soldering. Unfortunately, we cannot send you the batteries. However, you can get them from hardware stores and larger supermarkets (more on this below under "Tools and accessories"). The soldering kit includes: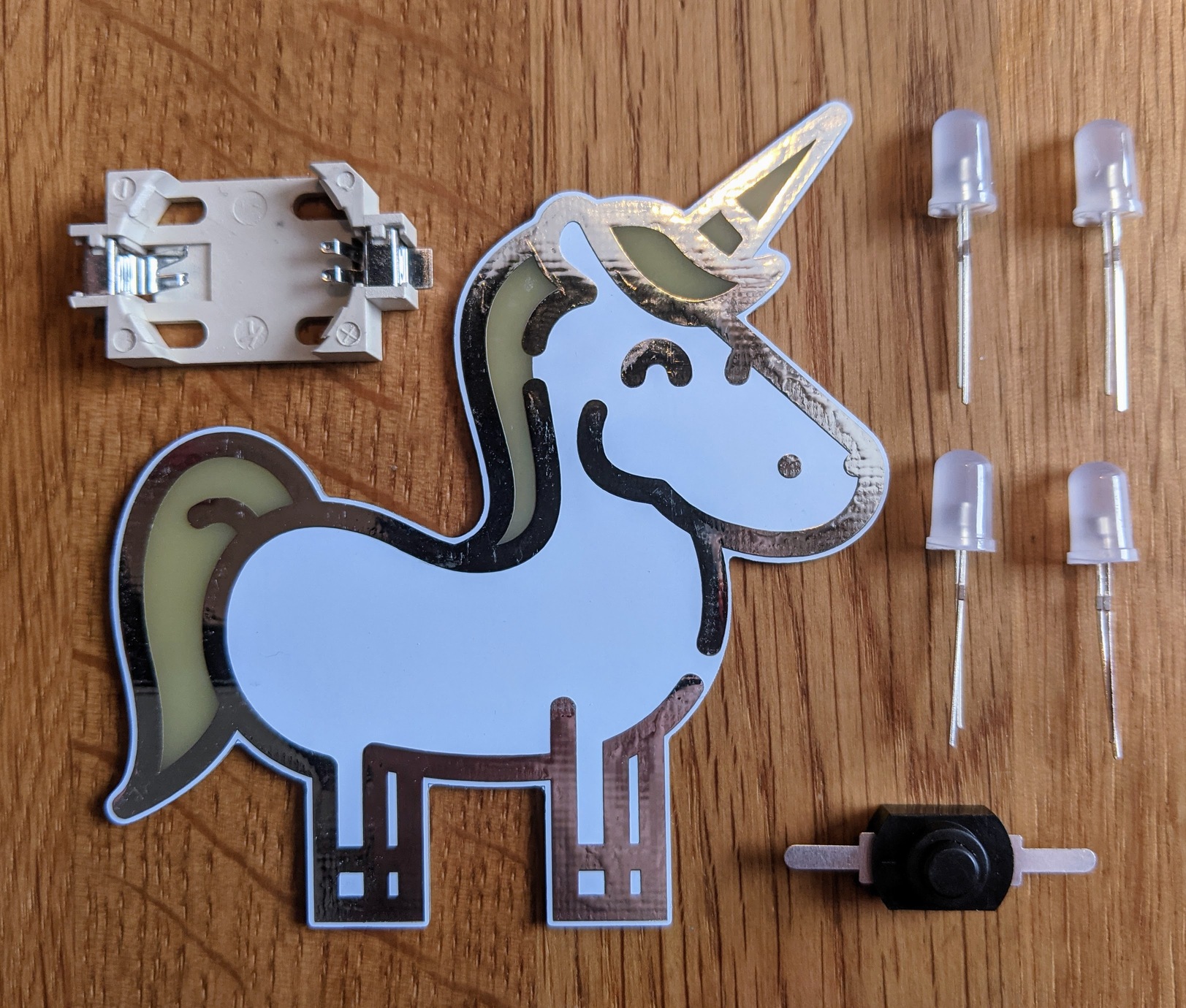 The circuit board
The circuit board is the heart of the unicorn. It forms the outline and the place to solder all the components. The board is made of fiberglass material which is coated with a gold alloy. A white coating of varnish is applied on top of it. Some parts of the board are slightly transparent. This creates the great effects on the tail and horn!
RGB LEDs
This is where the magic happens! RGB stands for red-green-blue and describes the different colours of the LED. It looks like one LED, but there are 3 tiny little LEDs that slowly change through an integrated circuit. This gives you all the colours of the rainbow. Look closely, the black dot you find in the LED is the entire circuit! Yes really, so tiny! Just connect 3V and the LED lights up in all colours. There are four RGB LEDs in the Unicorn soldering kit.

The SMD battery holder
The battery holder for CR2032 batteries is included in the kit in an SMD version. It is soldered onto the surface like the other components. How to do this is described in the soldering instructions. The battery itself is then simply plugged in. The battery lasts for 4-8 hours of continuous operation. So you should switch off your unicorn to save some power. You can get more in any well-stocked supermarket, in hardware stores and Swedish furniture stores.

A switch

Of course, a switch is also included! The switch is easy to operate and therefore ideal for children (and adult hands). The switch locks and stays in the position (on or off) you want the switch to be in. A great perceptible "click" provides haptic and acoustic comfort.

Needed tools

How the minimal soldering workplace looks like is described here: The soldering workplace


To make the unicorn glow, you need to get one CR2032 battery per unicorn at the hardware store or a big supermarket/shop. Also, a pair of tweezers is very helpful for this kit :)



Instructions and help
To make it easy for you to solder the kit, we have put together detailed instructions with lots of pictures and individual steps for each of our kits. There you will be guided step by step through the assembly and there are many tips and tricks on how to solder correctly. For the majority of our soldering kits there are also interactive circuits with the names of the components and the tracks. All instructions are available in German and English.
For environmental reasons we do not print our instructions. In fact, it is better to view them on screen, as you can then zoom into the high-resolution photos to see details. On each kit you will find a QR code or link to the instructions.
Just click on "DE" or "EN" for the relevant kit and you can download a PDF.



Case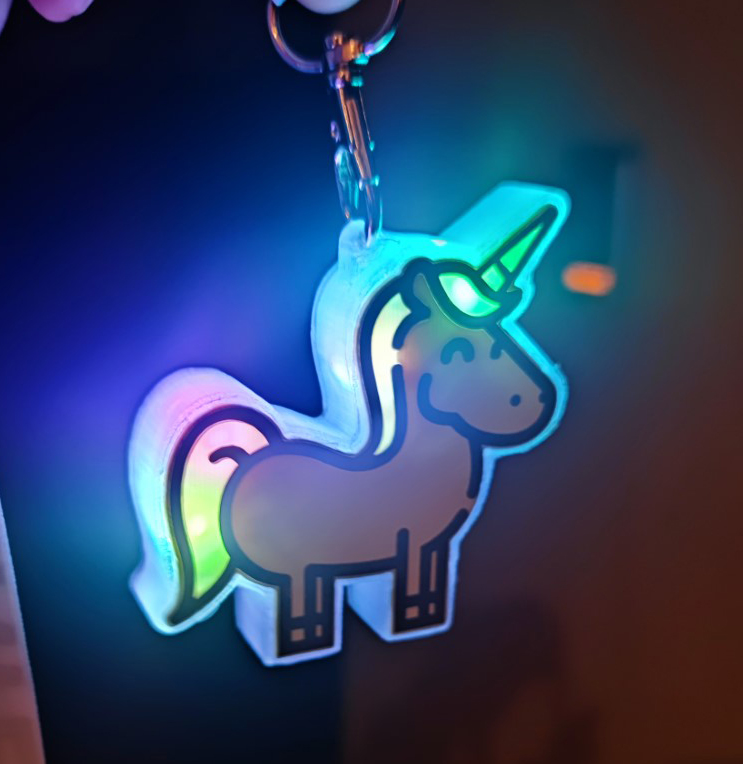 Lovingly packed for you by hand
All soldering kits are lovingly packed for you by hand in Germany. Unfortunately, it happens from time to time that a component is packed too much or too little. If something is too much: No problem! Keep the components and use them for your creations! If something is missing: No problem! Just send us an email and we will send you the missing parts.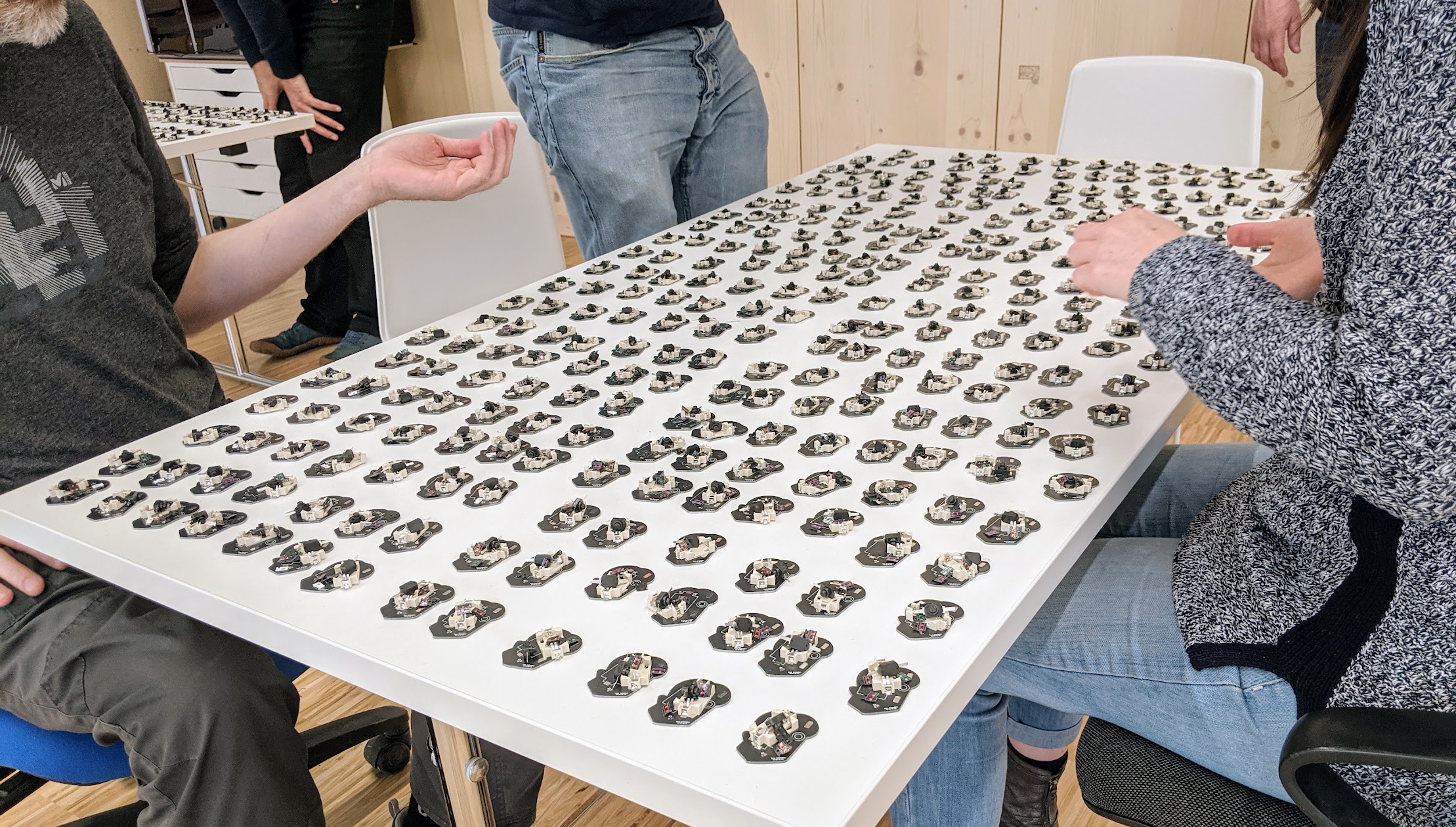 Show us your unicorn
We at blinkyparts are super excited to hear what your unicorn soldering kit turned out to be. A pin? A hair clip? Did you tattoo or paint the unicorn? A pin for your backpack or something completely different? Share your photo with us at
Twitter/Mastodon: #SolderingConnects
Instagram: #LötenVerbindet or follow us under @blinkyparts_com
Help others with your feedback
It is often difficult to judge whether a soldering kit is something for oneself. Help others by giving us a rating, a feedback. How did it work? What equipment did you have? What did you like most about it? What is your unicorn doing now? Just leave a review here on the product page under "Reviews".

Build Time:

20-40 Minutes

Difficulty:

Easy

Manual and iteractive board:

https://binary-kitchen.github.io/SolderingTutorial/

Needed batteries (not inclueded):

CR2032 coin cell / LIR2032 rechargeable coin cell

Target group:

Children

, Grownup

, Nerd
---
Die Einhorn-Bausätze sehen fantastisch aus und sind leicht zu löten
Sehr einfach zu löten mit nur vier RGB-LEDs, einer Taste und einem CR2032-Halter. Tolles Einsteiger-Set. Sieht fantastisch aus, wirklich schönes Design. Hier ist eine von meinen zusammengebaut: https://www.youtube.com/watch?v=ZDsuCGtFh1Q