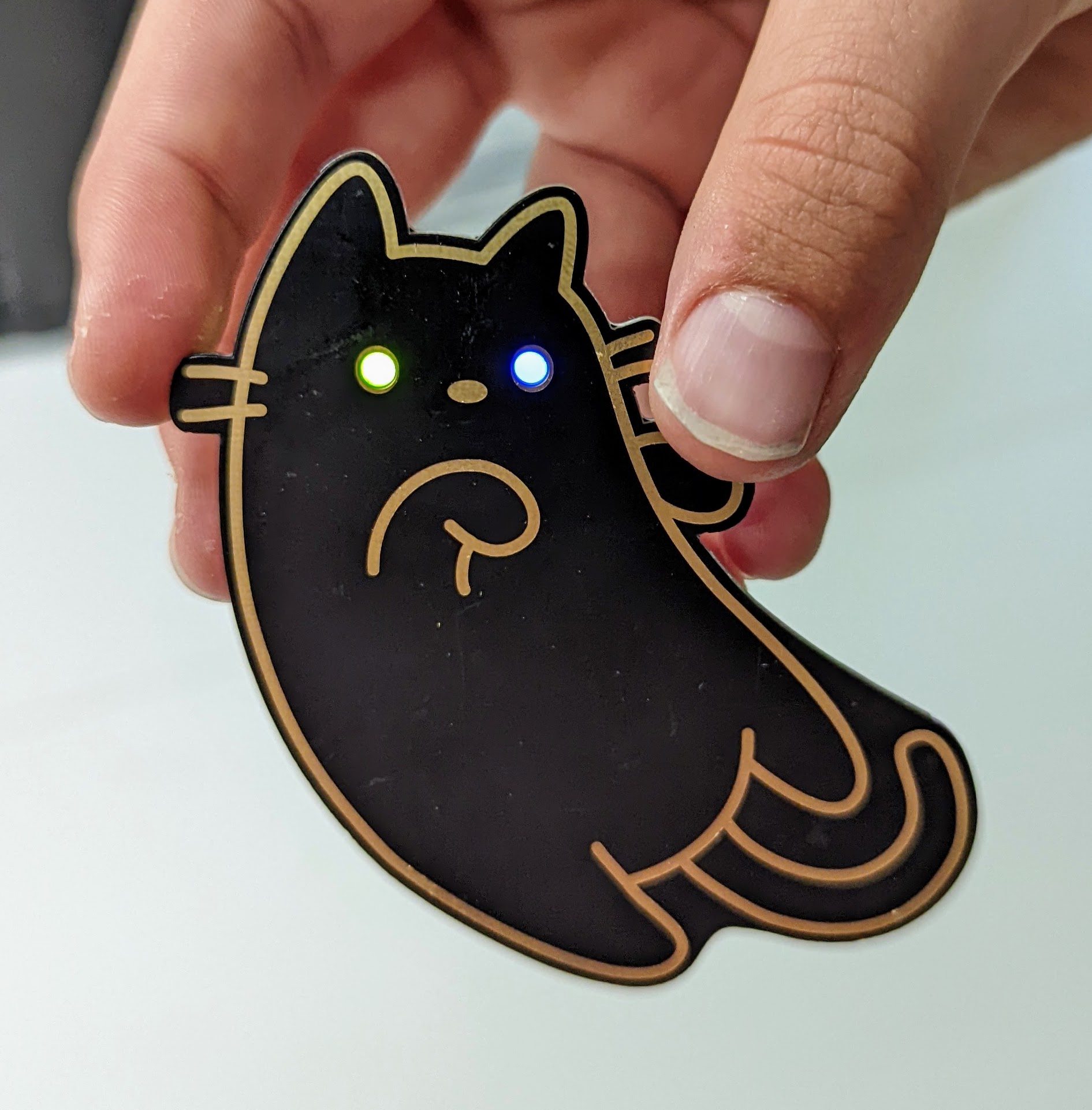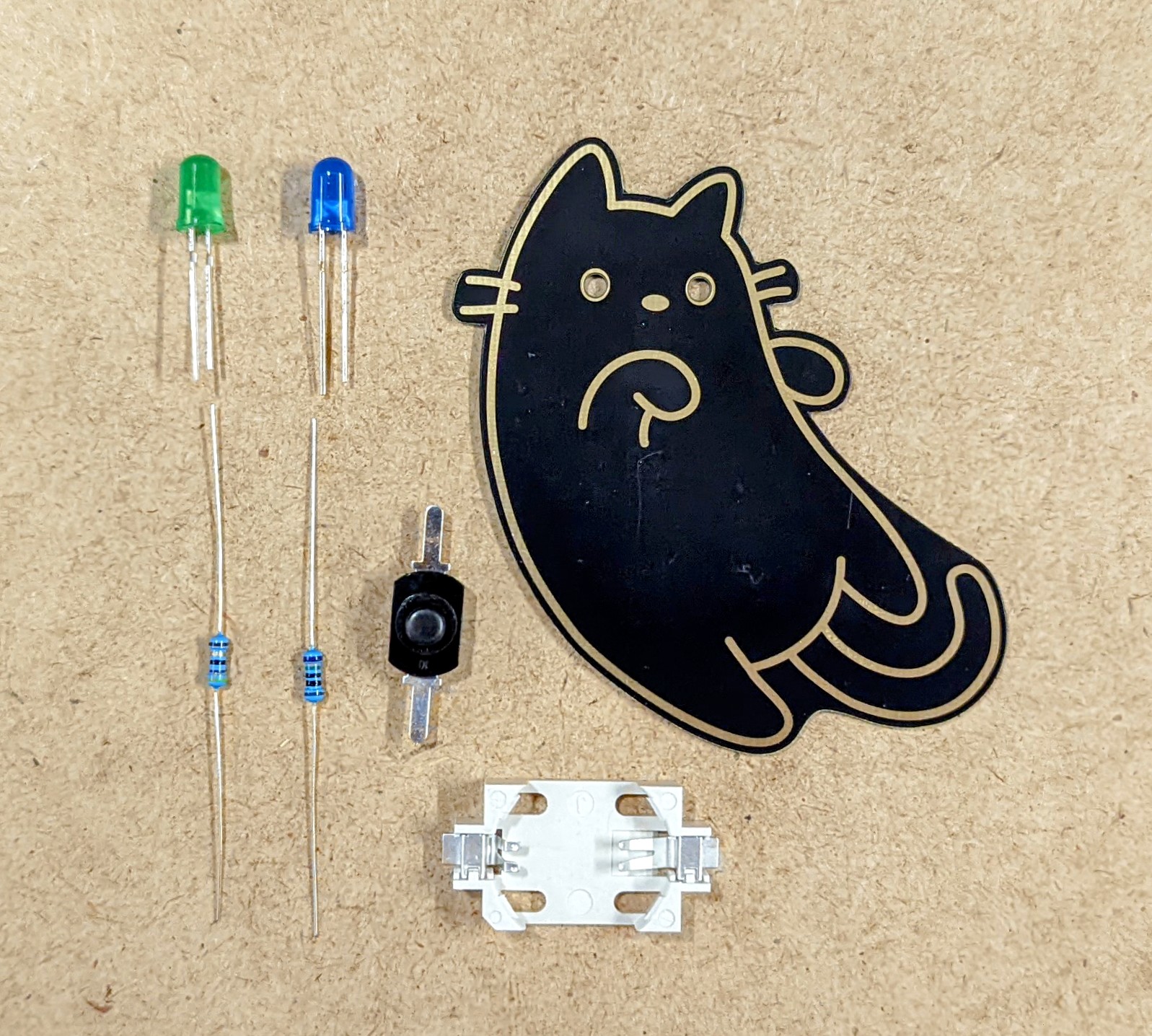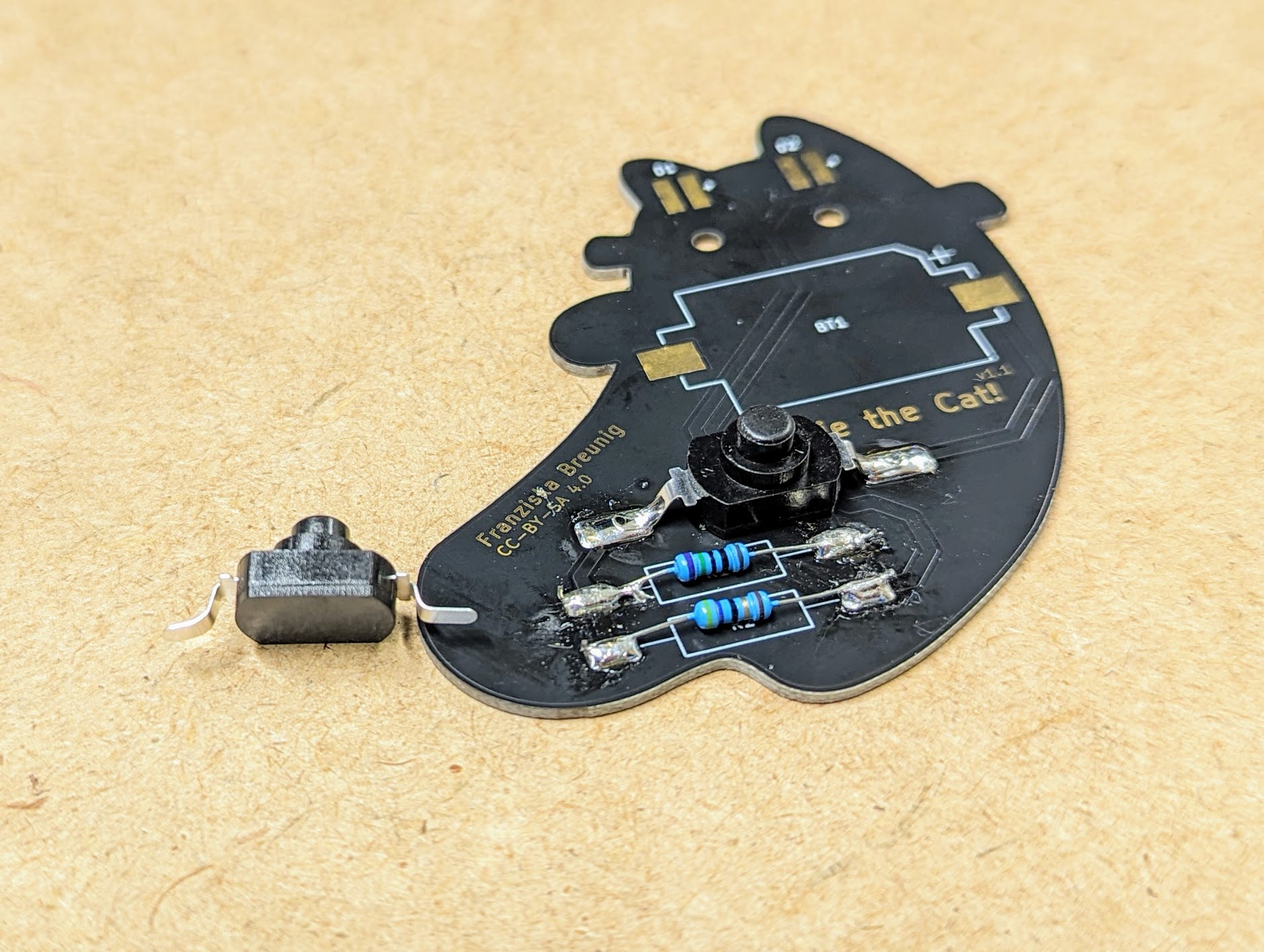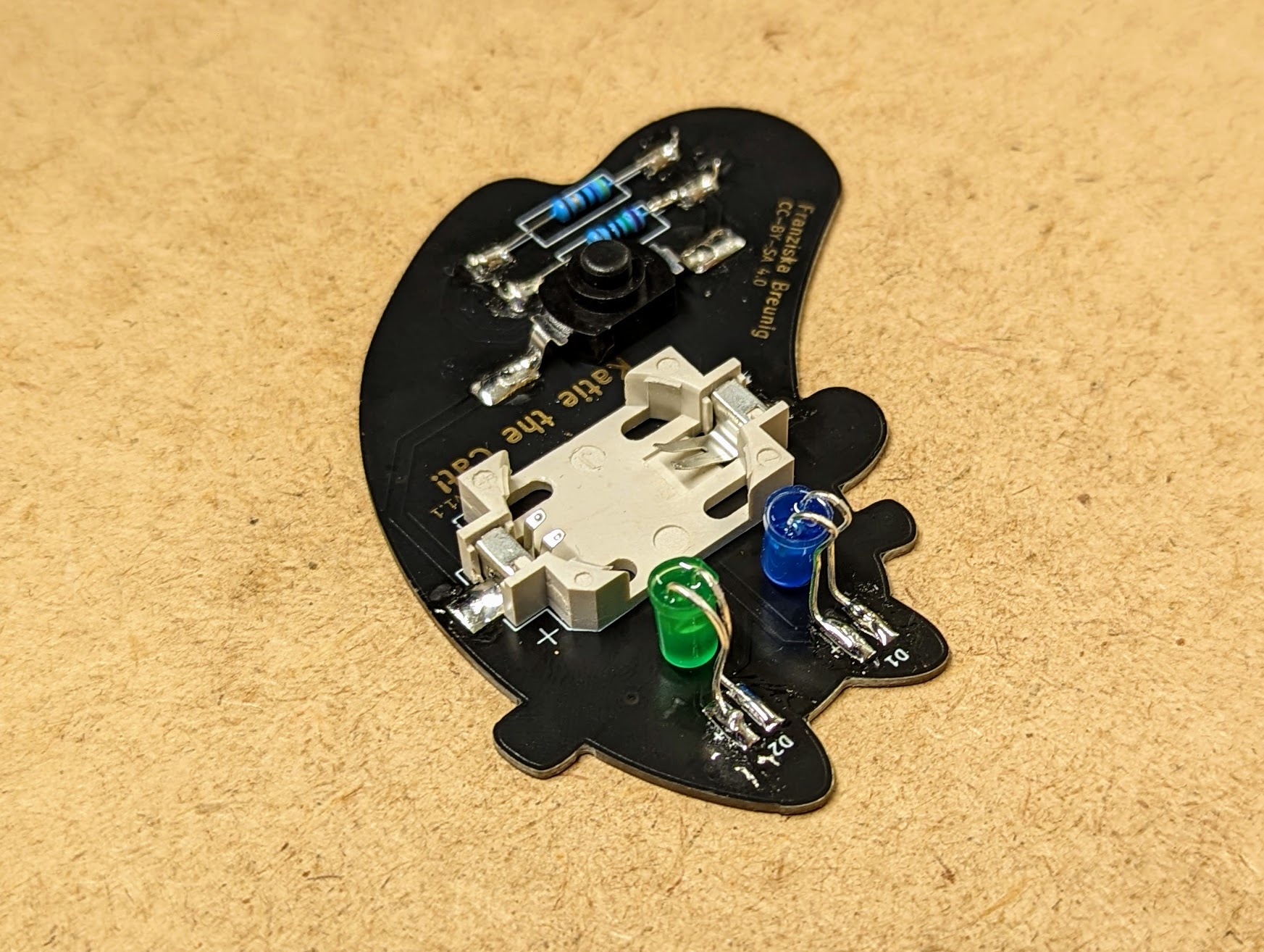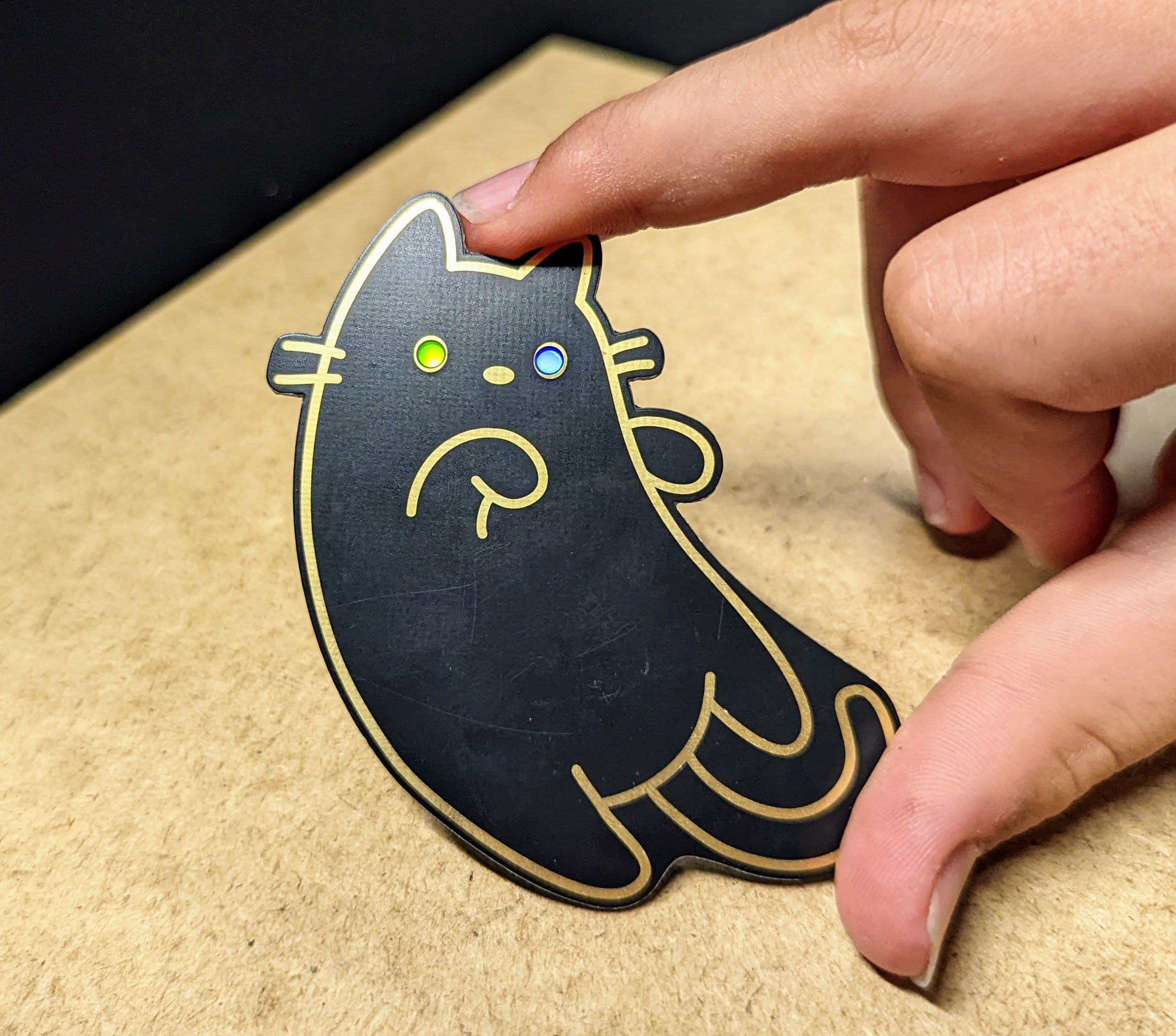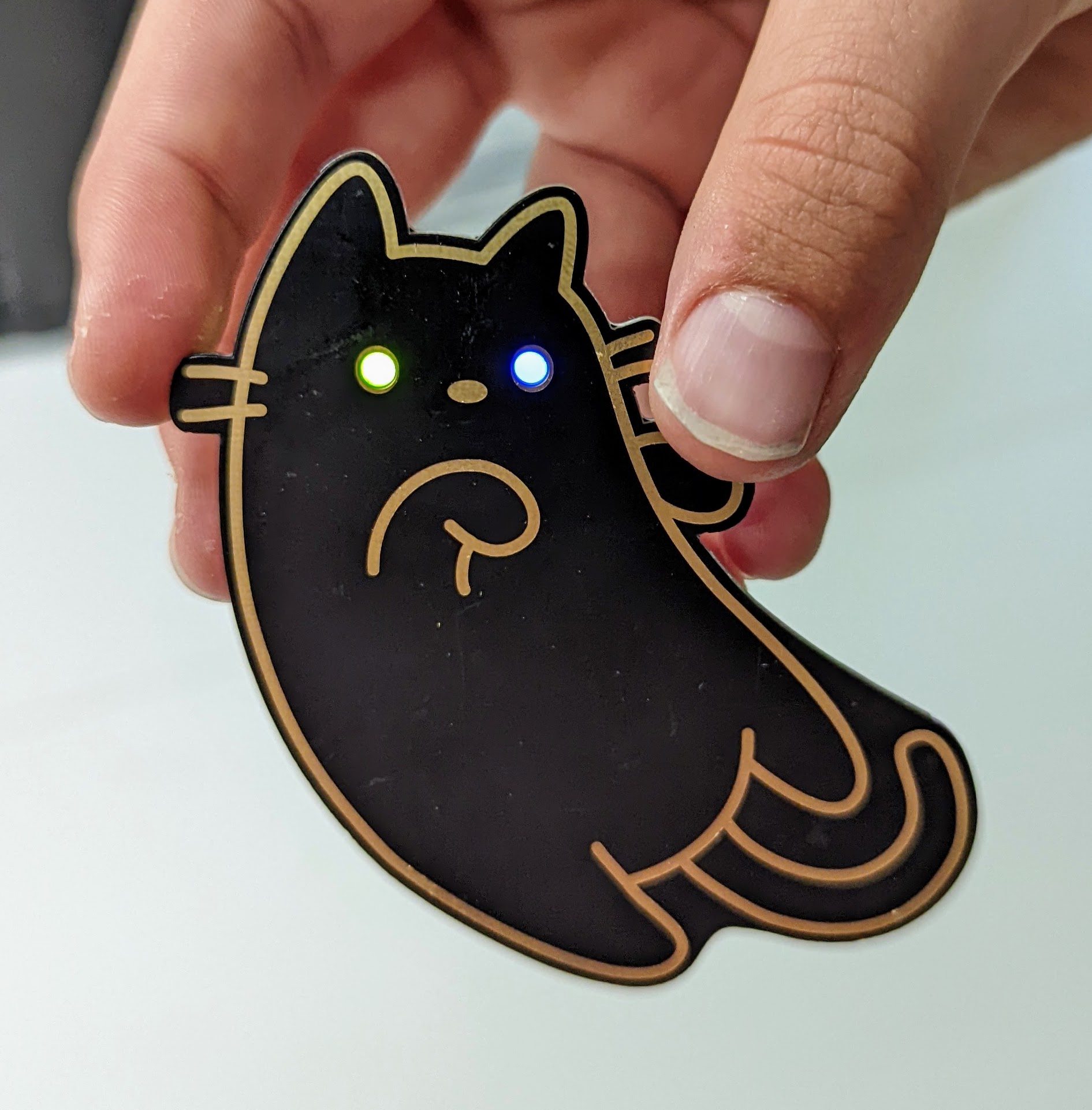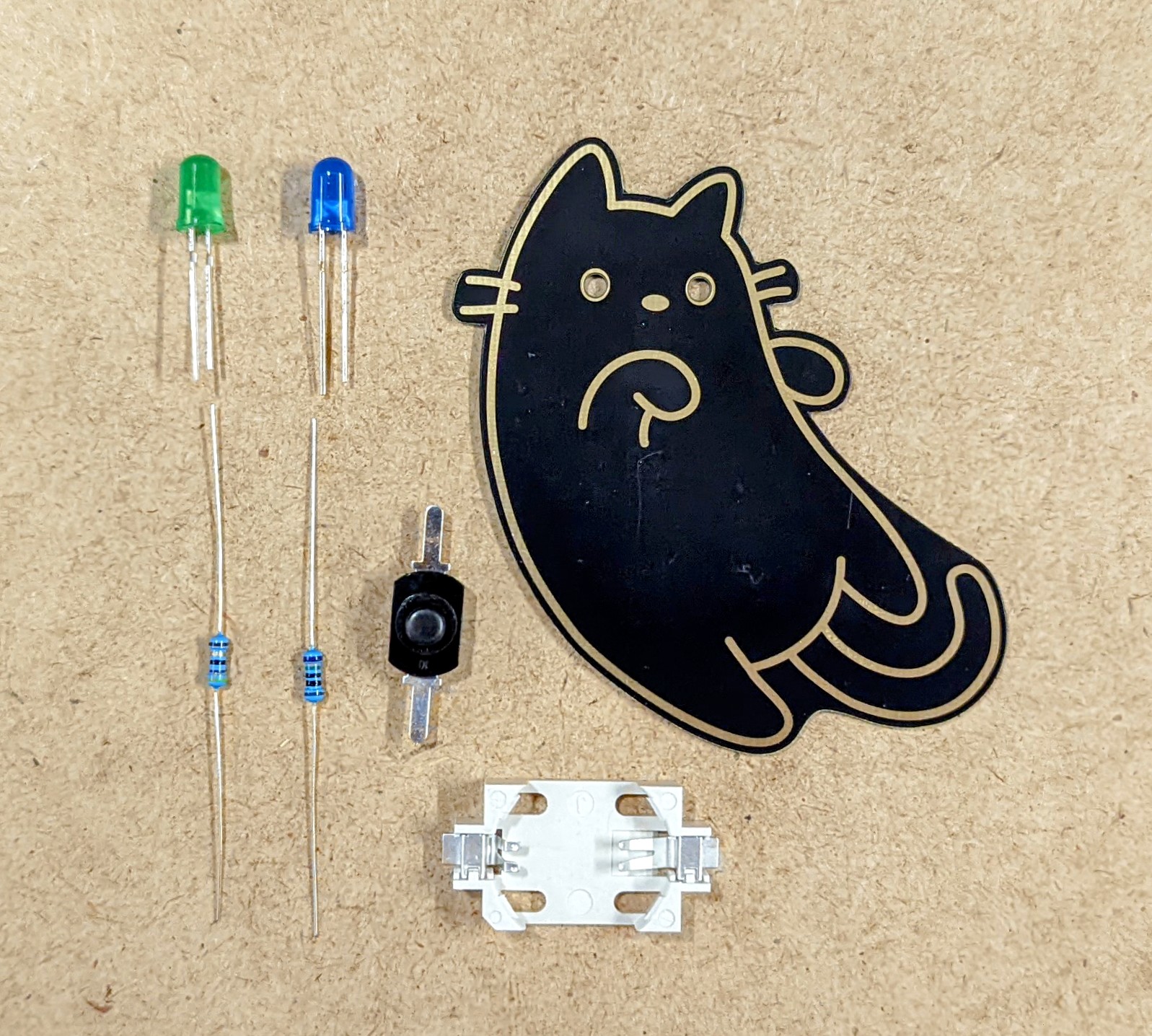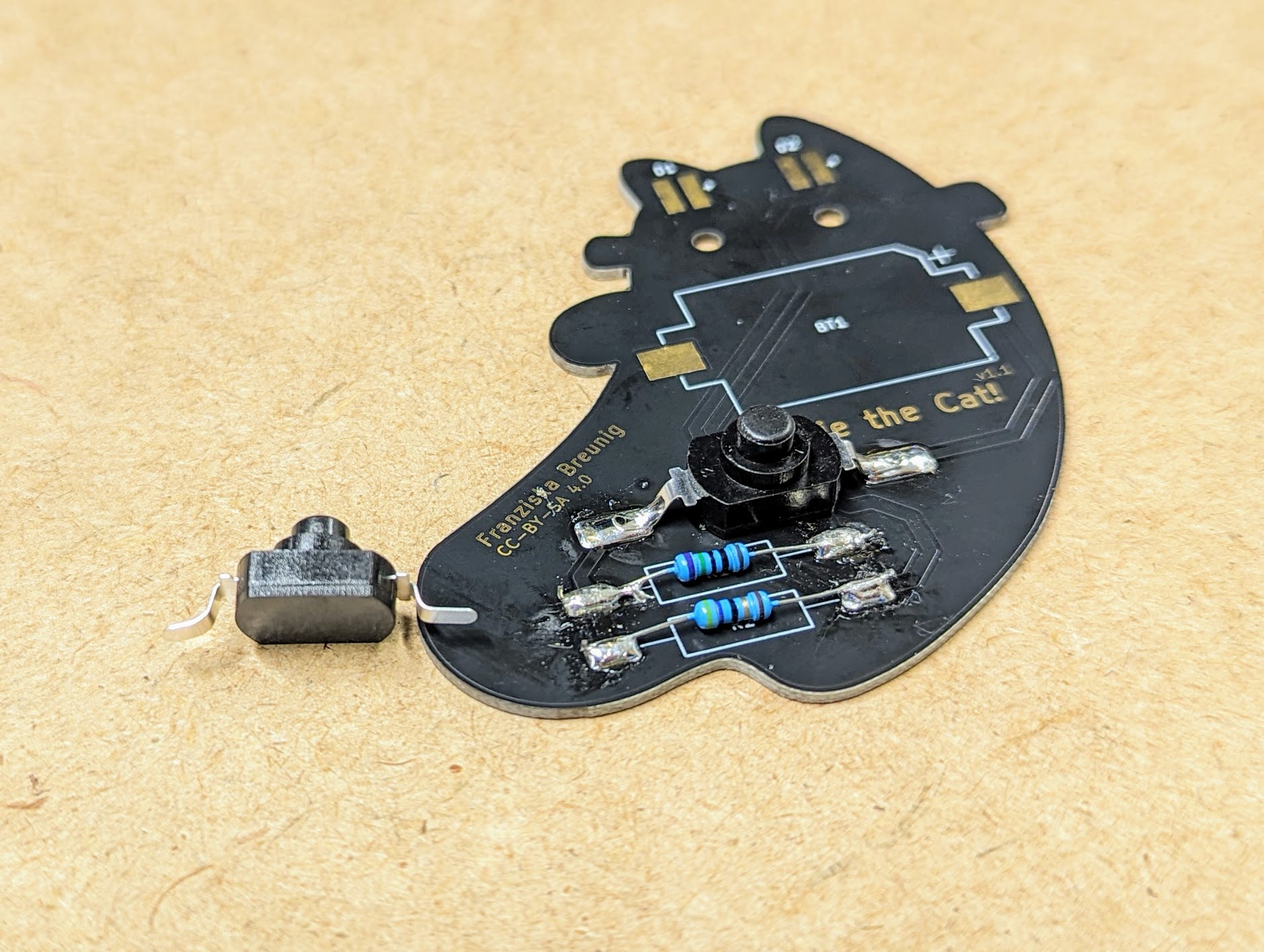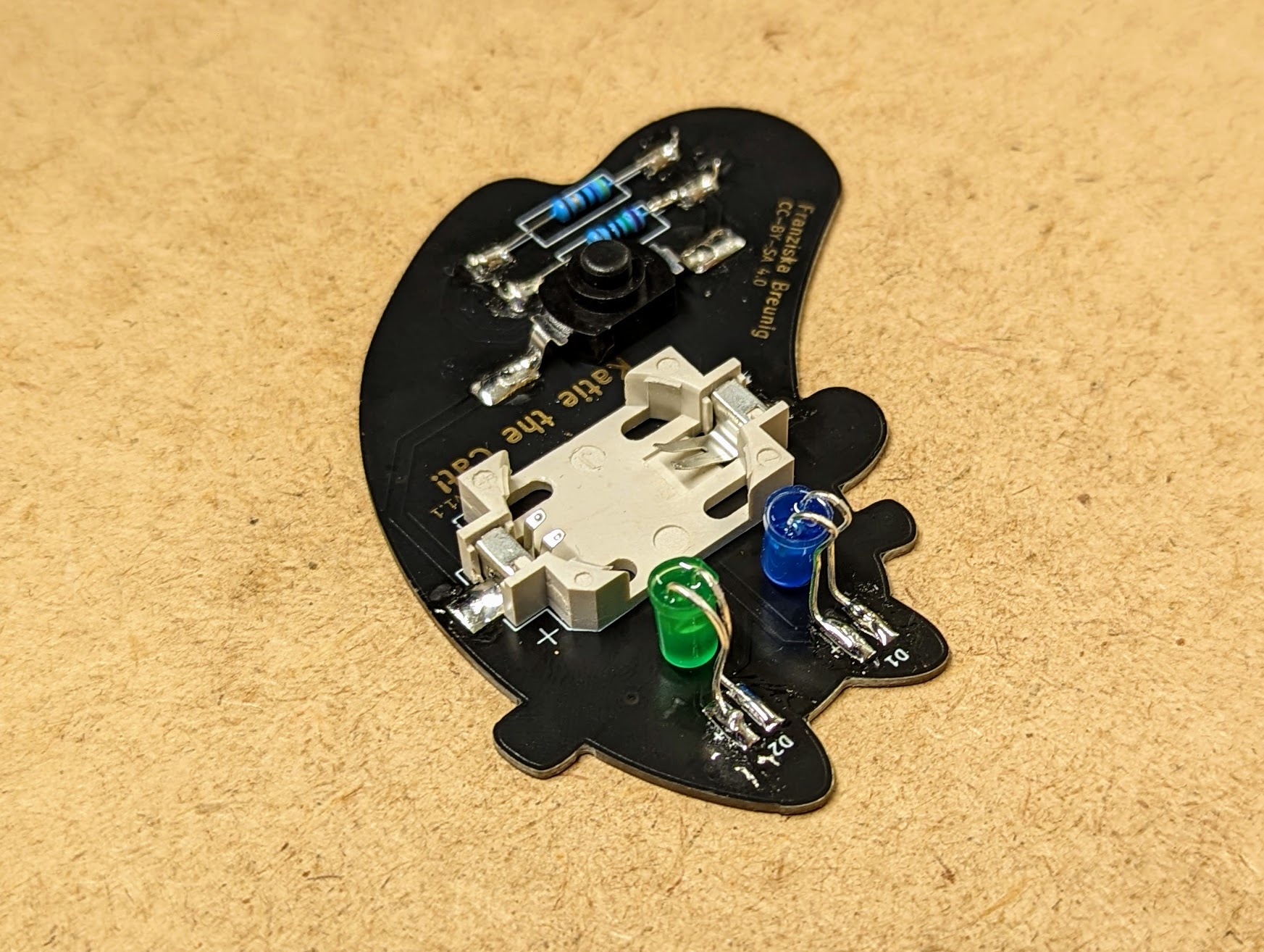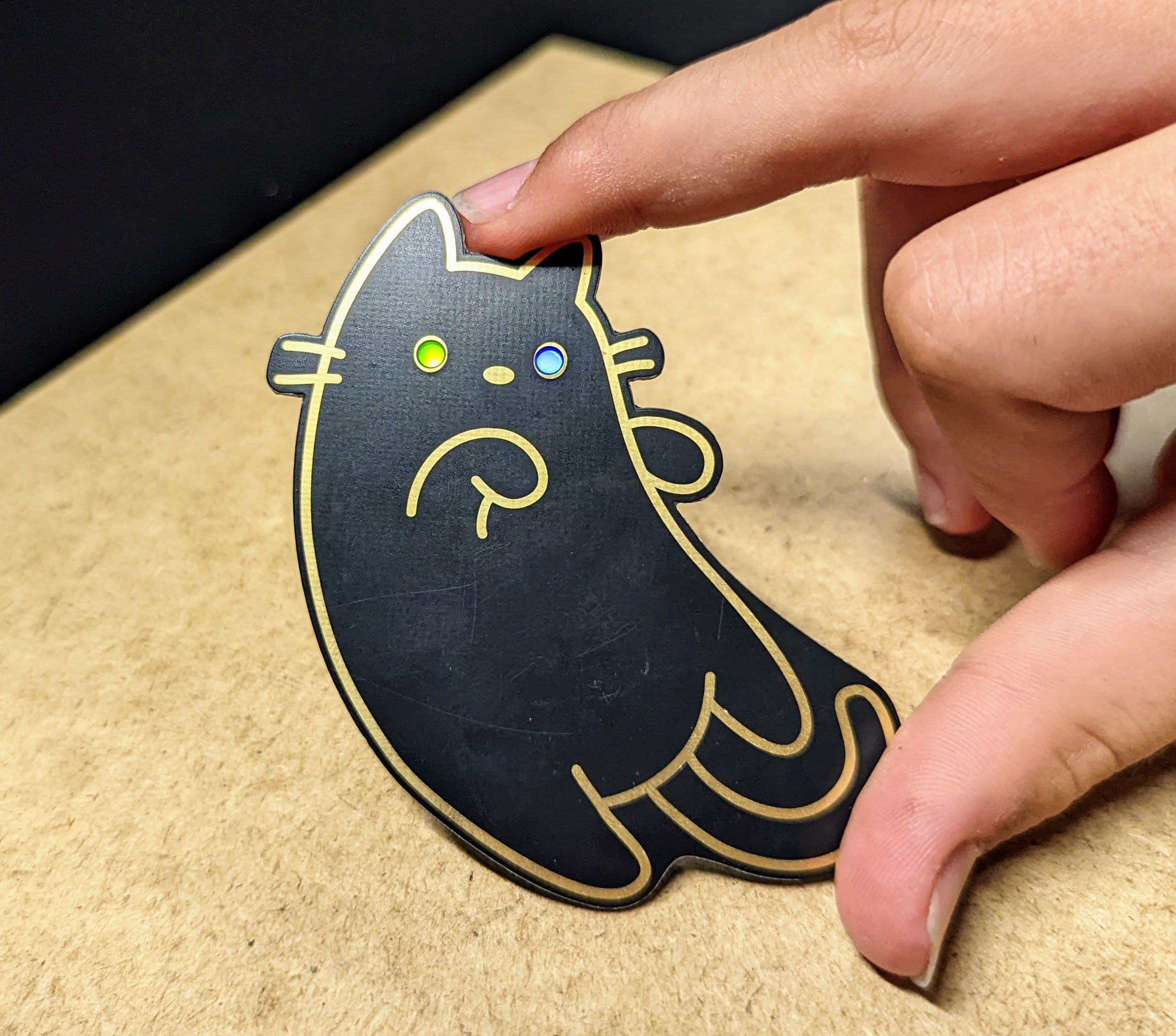 Available, delivery time: 1-3 days
Product number:
blink235142
Product information "Katie the Cat - A simple cat soldering kit with special eyes!"
This is Katie - The cat! Katie is a cat with two eye colours! Look deep into her eyes and you will see her beautiful two-coloured eyes. Heterochromatic eyes! Katie is a black cat who likes to live in boxes. Katie is a wonderful and easy soldering kit for anyone who wants to learn to solder or wants a great cat for company. What's special about Katie the Cat. Katie was designed by Franziska Breunig herself when she was 11 years old. From the circuit design to the board! How cool is that?

The best thing is: with this soldering kit you can easily make a great pin, pendant or necklace even as a beginner. You only have to solder 6 components on the back. For those who already know a bit about soldering: The LEDs are THT, i.e. through-hole components. They are soldered to the surface on the back. We used this trick to get the special effect of the eyes.

For those who are not yet ready: never mind! Detailed and well-tested instructions will guide you through this little soldering adventure.

Target group
The electronic soldering kit is designed for beginners. Franziska has also written the instructions and we have taken special care to use simple language. Adults and children alike can have fun with the cat soldering kit, although of course you should not let children solder alone. Relatively large components are used, making it easy to learn how to solder. Only 6 components need to be soldered. This can be done in a reasonable amount of time even by absolute beginners. The shape shows the cat Katie with her two different eyes looking at you playfully. It's best to order one or two other kits at the same time, because as you can imagine, Katie loves company and the other soldering kits make a great gift for friends and family.

The components in the Katie the Cat kit

Our kits always include all the components you need for soldering. Unfortunately, we cannot send you the batteries. However, you can get them from hardware stores and larger supermarkets (more on this below under "Tools and accessories"). The soldering kit includes: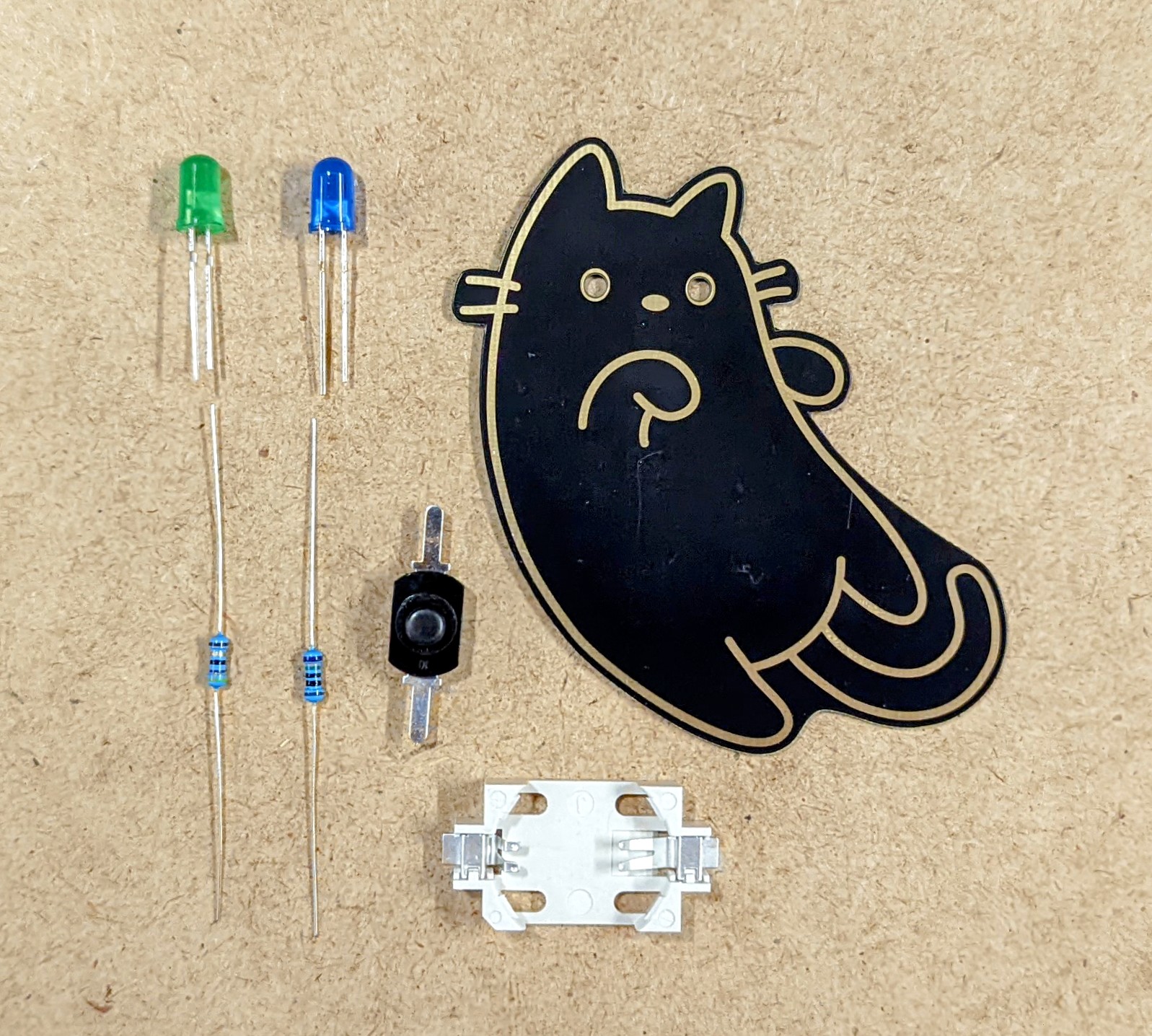 The Board (PCB)

The circuit board is the heart and gives Katie her beautiful shape. It forms the outline and the space to solder all the components. The board is made of fibreglass material which is coated with a gold alloy. A layer of black lacquer is applied on top. There are two holes in the board, which allow the LEDs to shine from the back.

The LEDs
This is where the magic happens! And they do it twice. Once in green and once in blue they make the eyes shine, both the eyes that solder the kit and the eyes of the cat. The colour was chosen especially for you by Franziska. The brightness is also perfectly matched!

The SMD battery holder
The battery holder for CR2032 batteries is included in the kit in an SMD design. It is soldered onto the surface like the other components. How to do this is described in the soldering instructions. We made sure that the SMD battery holder is very easy to solder on. The battery itself is then simply plugged in. The battery lasts for many hours of continuous operation. If you don't want Katie to be there for you with shining eyes, you can switch her off with a switch. You can buy more batteries in any well-stocked supermarket, in hardware stores and Swedish furniture stores. It's best to buy 1-2 more batteries ;).

A Push Button

Of course, a switch is also included! The button is easy to operate and therefore ideal for children (and adult hands). The switch locks and remains in the position (on or off) in which you want the switch to be. A great perceptible "click" ensures haptic and acoustic well-being.

Required Tools
Here we describe what the minimum soldering workstation looks like: The soldering workplace
To make Katie's eyes light up, you'll need to get another CR2032 battery per soldering kit at the hardware store or a large supermarket/Swedish home furnishing store.

Also, tweezers are particularly helpful for this kit :)
Instructions and Help
To make it easy for you to solder the kit, we have set up detailed instructions with lots of pictures and individual steps for each of our kits. There you will be guided step by step through the assembly and there are many tips and tricks on how to solder correctly. For the majority of our soldering kits there are also interactive circuits with the names of the components and the tracks. All instructions are available in German and English.
For environmental reasons, we do not print our instructions. It is even better to view them on screen, as you can then zoom into the high-resolution photos to see the details. On each kit you will find a QR code or link to the instructions.
Just click on "DE" or "EN" for the right model kit and you can download a PDF.
Lovingly packed for you by hand
All soldering kits are lovingly packed for you by hand in Germany. Unfortunately, it happens from time to time that a component is packed too much or too little. If something is too much: No problem! Keep the components and use them for your creations! If something is missing: No problem! Just send us an email and we will send you the missing parts.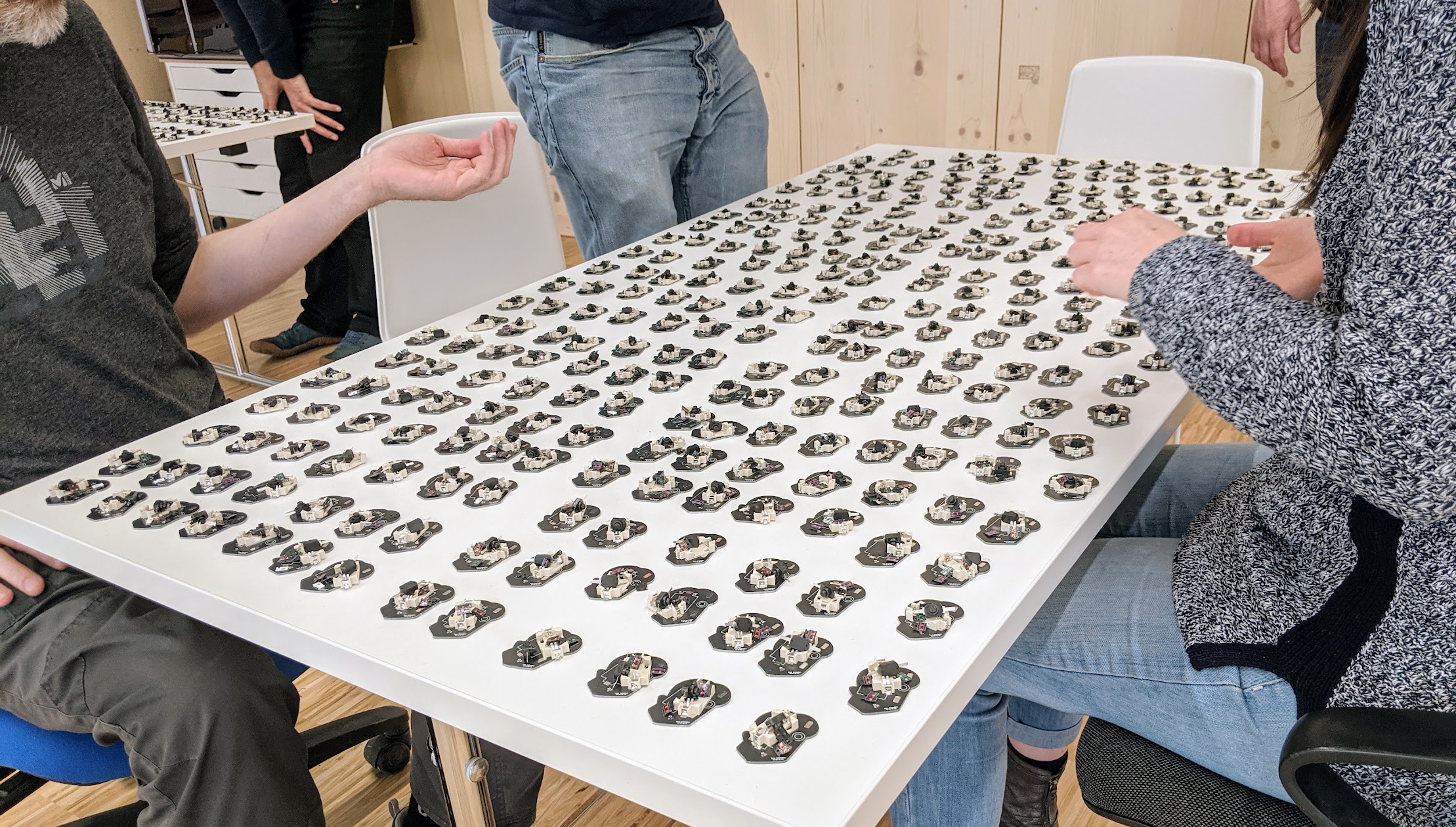 Show us what you did with your Katie
We at blinkyparts are super excited to find out what happened to your Katie the Cat soldering kit. A pin? A hair clip? A pendant? Did you engrave or paint Katie? A pin for your backpack or something completely different? Share your photo with us at
Twitter/Mastodon: #SolderingConnects
Instagram: #SolderingConnects or follow uns at @blinkyparts_com
Help others with your feedback
It is often difficult to judge whether the soldering kit is something for you. Help others by giving us a rating, a feedback. How did it work? What equipment did you have? What did you like most about it? What makes your cat special? Just leave a review here on the product page under "Reviews".

Build Time:

20-40 Minutes

Difficulty:

Easy

Manual and iteractive board:

https://binary-kitchen.github.io/SolderingTutorial/

Needed batteries (not inclueded):

CR2032 coin cell / LIR2032 rechargeable coin cell

Target group:

Children

, Grownup

, Nerd